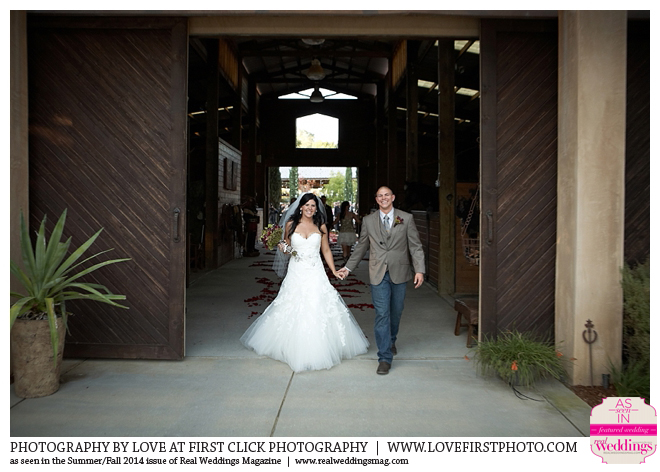 Randy wanted to respect his future in-laws by asking for their consent to marry Holly, so he invited them out to dinner. "I formally asked her mom and dad if they would give Holly's hand in marriage to me," Randy says. "Then, thank God, they said yes."
The surprise proposal was harder. Arranging a Lake Tahoe vacation with Holly, her parents and her four sisters with their husbands and children went fine; the hard part was getting Holly outside where he wanted to propose. "It had to have been one of the worst storms Tahoe had seen," Holly says. Therefore, she didn't want to venture outside. Holly's entire family tried to get her to go, without success. Finally, Randy coaxed her out with her sister and brother-in-law to help teach a nephew to snowboard. "I used the same people to drag her up to the top of this mountain and get her on the edge of a cliff that said 'hazard of avalanche,'" Randy remembers. He told her that her sister wanted to take a picture. Randy then asked Holly to hold his glove while he fixed his boot. As Holly exclaimed, "Oh my gosh, take the picture already!" Randy pulled the ring out and asked her to marry him. "I had no clue," Holly says.
The two had first met at a pub a year before. Randy thought she was the most adorable thing he'd ever seen, and Holly considered him extremely sexy and handsome—a charming "bad boy" who can still be sweet, genuine and trustworthy. "He brings out more of the adventurous side of me," Holly says. The couple went out to breakfast a week after they met; they were so engrossed with one another that after two hours, their plates were still full and the food was cold. "Holly [has] a deep personality—she's really colorful and can have a really good time," Randy says. "It was just easy."
Three months after the proposal, Randy enlisted in the Army and three months after that, they were married. He returned from basic training only three days before the wedding.
Thankfully, Holly had no trouble with the pre-wedding preparations: Her mother and the wedding planner were able to handle a lot of it. But when it got to the day, it was different.
"I was so nervous," she says. "I hadn't cried all day and then, waterworks! I cried so much, walking down that aisle. I think I ran down the aisle!"
They held the old-fashioned Western-themed wedding at Holly's parents' home that includes 10 acres, a large arena and horses. The ceremony was outdoors, and the reception divided the covered arena into three sections: DJ and dancing in the middle, one side for bar and lounge, and the other side for tables decorated with wagon wheels and deer antlers, orchids and lots of candles. They ate Southern comfort food including beef brisket, smoked chicken and lots of sides, including Holly's favorite—sweet potato fries.
— Margaret Snider