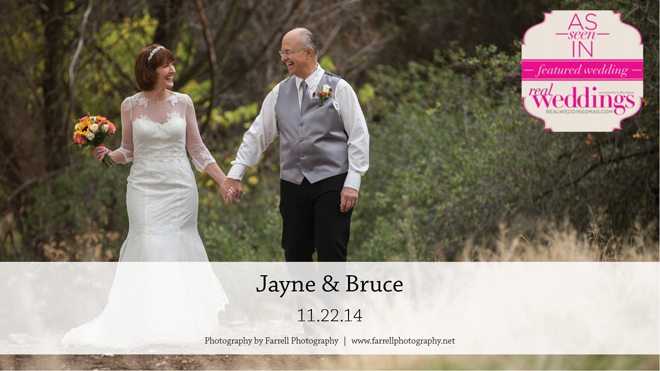 Neither Jayne nor Bruce was expecting a second chance at love: Both widowed following respective marriages of 29 and 39 years, love found them in an unexpected way. Bruce's mom was a patient at the Sacramento nursing home where Jayne is a business manager, and when Bruce saw Jayne, it was love at first sight—for him.
Jayne recalls, "I liked Bruce, but my heart was still hurting from many losses over the prior years." Jayne had not only lost her husband three years earlier, but also her eldest son and her mother in recent years. "I wanted friendship at first, but I quickly realized Bruce was healing my grief, and I opened myself to love again." That was in the summer of 2014. It didn't take long for love to blossom and turn serious.
Just a few weeks later, upon her return from a trip, Bruce proposed to Jayne with two red roses to symbolize their love. Then, it was on to planning the perfect second chance wedding, and finding the right venue.
They found that venue at the spectacular and expansive Dodasa Ranch, an all-inclusive wedding resort nestled in the rolling foothills south of Comanche Reservoir and near Valley Springs, where Bruce is the general manager of a hardware store.
The country setting and one-wedding-per-weekend exclusivity provided the right balance of leisure and luxury the couple was seeking. The late November wedding day started with rain but ended with sparkling autumnal sunshine—befitting the sun-after-rain love Jayne and Bruce found together.
The small wedding welcomed 75 dear guests, including their children, grandchildren and closest friends and family. The ceremony took place in a garden setting among stately oaks, plump pumpkins, specially selected sunflowers and lush landscaping. The couple wrote their own vows dedicated to their faith, devotion to, and respect for each other. Jayne's younger son walked her down the aisle in an emotional moment for all. The pastor remarked that Jayne and Bruce felt the spiritual presence of those they had lost joining them in their happiness that November day.
Although it was difficult to pinpoint a highlight in a day filled with them, Jayne remembers the meaningful time they spent holding hands and facing each other during the soloist's singing of "Because You Love Me" prior to their vows. For Bruce, the moment he first saw Jayne as they gathered for their photos will remain with him forever.
The reception that followed in the venue's open beam outdoor pavilion, complete with fireplace and country fall decorations, featured a delicious catered dinner, charming three-layer cake, leisurely socializing and fun toasts. "It was very meaningful for us to have a special memorial candle lit to honor our first spouses," Jayne recalls.
Jayne and Bruce reflect on their day as being spectacular in every way, and they now share their peaceful life together in the quiet foothill community of Mokelumne Hill.
―Carrie Poggio