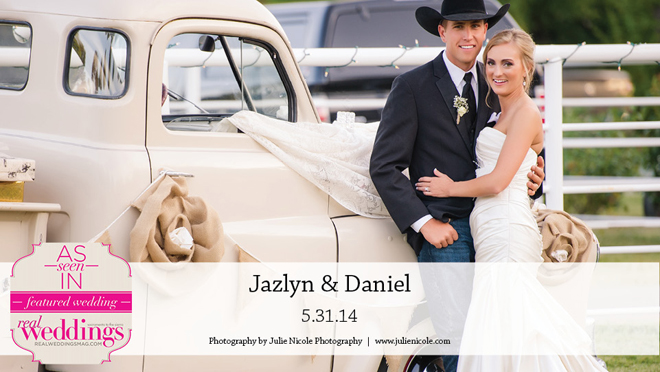 Country life and commitment to family runs deep for Jazlyn and Daniel. They both come from ranching and equestrian backgrounds, were born in Lodi, lived in Clements and graduated from Galt High School, but it took going hundreds of miles away to college at Cal Poly for their paths to truly cross. Then, it took some time for an instant friendship to blossom into the love of a lifetime.
Four years after meeting, and with professions fitting their backgrounds (Jazlyn is a lifestyle representative for renowned boot company Ariat International and Daniel went back to his ranching roots), they are husband and wife.
"I had no idea Daniel liked me," Jazlyn recalls. "He would drop everything to meet me at the library or do little favors for me like giving me a ride if I needed one. I was oblivious to his feelings for me!" She thought of him as her best guy friend and would even share stories from other dates with him. He persevered, and finally, with a little nudging from her friends, decided to give the next step a chance.
Love took flight, and their engagement came on a beautiful late summer day during a trip to Sorenson's Resort in Hope Valley. In a sunlit meadow on a stream, Daniel surprised Jazlyn with a little blue box she mistook for a necklace to replace one he'd given her early in their relationship. What was inside was so much more: an engagement ring. "That's when he said, 'Jazlyn, will you marry me?' I was so shocked—we're lucky I didn't drop the ring in the water!"
They immediately knew they wanted as intimate a wedding as possible, while accommodating a large number of guests (ultimately 415 showed up). They picked their date, selected Biglow Farms in Clements as their venue, and had two top priorities: "We each wanted our father-daughter and mother-son dances, because both of them are sick and were diagnosed around the same time," Jazlyn says. "Those moments were very important to us, as was making sure our guests had the best time possible. I also wanted to be able to share a quiet moment with Daniel after the ceremony before going on to the other festivities."
"My father-daughter dance is a moment I didn't think I would have, and we were lucky enough to make it happen," remembers the bride.
Adding to the personal feel of their wedding was the cake, homemade by Daniel's cousin, and their officiant, who knows both Jazlyn and Daniel well and wove in aspects of their horse and ranch backgrounds into the ceremony. "My dad is a horse trainer and always says that if something isn't working in training, always just go back to the basics, the foundation," Jazlyn explains. "[The officiant] took that and related it to marriage and how it's not always easy, but that we should always go back to the foundation of our relationship together."
The perfect spring weather, open bar, entertaining DJ, lights and elegant ranch ambiance ensured that Jazlyn and Daniel's country wedding was one to remember.
—Carrie Poggio