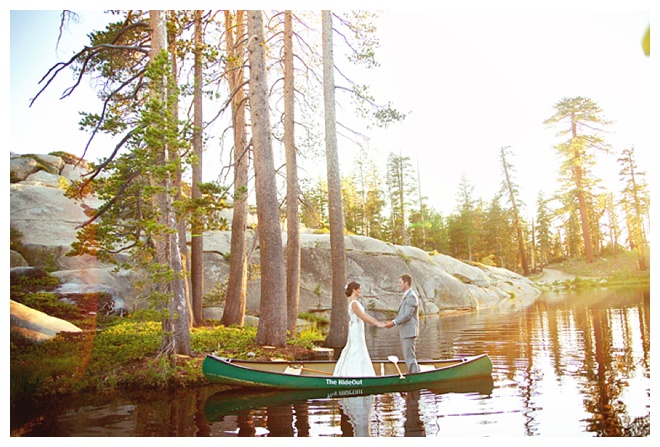 Jenna and Simon grew up in the Bay Area five miles from each other. Though they attended neighboring high schools and had lots of friends in common, it was only three and a half years ago—when Jenna was invited by one of her friends to join a group at Simon's ski lease in South Lake Tahoe—that the two met.
"I love to ski and he loves to snowboard," Jenna says. "That whole weekend when we first met, that's what we were doing." After that, the two moved quickly, and naturally, into spending all of their free time together—a lot of it in the Lake Tahoe region.
After two and a half years and a move to the Sacramento area, the couple was camping on the Big Sur coast while road tripping to Santa Barbara. On the beach at sunset, they began rock hunting, searching for one shaped like a heart. The two settled down on a log, backs to each other, sorting through the rocks at their feet. "What about this rock?" Simon asked. Jenna turned around to find him holding up an engagement ring. "That's a great rock!" Jenna said. All Simon could get out was "Will you…?" Jenna said yes.
Once home, the joyful task of planning the wedding absorbed their lives. Though Jenna pulled things together, she didn't make any decisions without her groom, and friends and family contributed as much as possible. Nevertheless, things got hectic toward the end. "There's always going to be a million things to do the last week, no matter how well you prepare," Simon says.
With their love of the Tahoe area, perhaps fate led them to choose The HideOut in Kirkwood as their venue. The couple spent the last four days of wedding preparations—festivities, food and finally ceremony and reception—at the locale's wilderness setting, enjoying the outdoors, each other and their friends and family.
On the day of the wedding, it was as if time slowed down. In the morning, the bride and her bridesmaids did yoga on the deck overlooking the lake, and she even finished dressing early.
Jenna's favorite moment of the day was the first look at a granite outcrop out of the lodge's sight. Simon had his back to Jenna as she approached. Then he turned, and they were face to face in full wedding regalia for the first time. "That was my favorite moment of the whole day," Jenna says.
"We were able to laugh, cry and tell each other all kinds of mushy things in private before we said 'I do' in front of our friends and family. I've never been so happy as I was in the moment that we first saw each other," recalls the bride.
The ceremony and reception took place outside, overlooking the lake. The couple's advice for others is simply to "choose the things that you love, things that represent both of you, and you won't go wrong."
—Margaret Snider