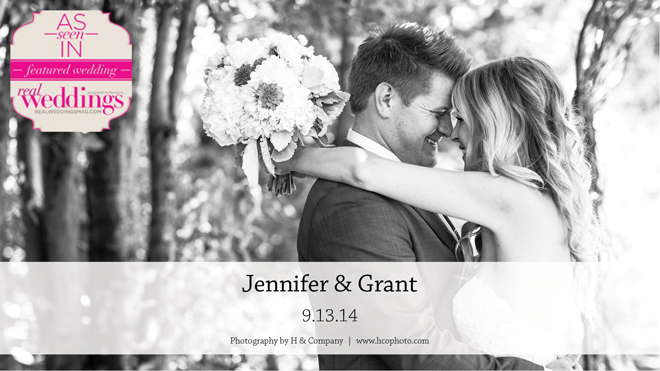 Lake Tahoe is a special place for Jennifer and Grant. It's where they got engaged and where they married in front of 191 guests.
The couple met at a dive bar's karaoke night in 2007 and later married at PlumpJack Squaw Valley Inn, with the ceremony held creekside at the base of the mountain. Tahoe was also the backdrop for the weekend wedding, which included a welcome party, rehearsal dinner and golfing. "It was great because we got to relax and greet all of our guests over drinks in a more casual atmosphere before the big day," Jennifer says.
Grant's father officiated the ceremony, which the bride says, "was short and sweet and very funny at times." The décor was simple since the couple didn't want to compete with the venue's natural beauty. The invitations, for example, featured an outline of a tree with a heart carved into the trunk and a banner that read "Celebrate Love."
Jennifer, an analyst with the California Department of Justice and Grant, an attorney, wanted their reception to be a big party. "We had the idea early on that we wanted to have glow sticks available for people to wear on the dance floor," she says, noting that all the guests—even grandparents—wore them. "People were wearing them on their heads, [and] around their wrists and ankles. We even made a jump rope—that was pretty interesting."
The wedding day was emotional for Grant, who says nerves hit him right before the ceremony. "I was sincerely overjoyed and just so thankful to have my friends and family, especially Jen," he says. "After the 'I dos,' when we were walking down the aisle, it was the best feeling to see all of our friends and family cheering for us," says Jennifer, explaining her groom couldn't stop smiling. Grant loved their entrance to the reception and all of the speeches. "So much humor, love and emotion from everyone," he says.
Not much about their wedding was traditional. They had assorted desserts in lieu of cake, for example, and didn't have the garter toss. The goal was to forget traditions and make the celebration their own. "We wanted to enjoy the night—it just flew by—and party with our guests," says Grant. "That's what we did, and we didn't regret it one bit."
―Kristen Castillo