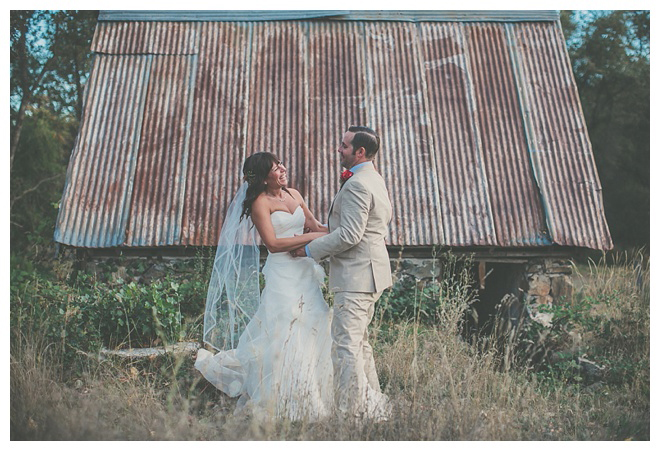 When fate brings two people together, you know it is meant to be. Jessie and Chris met at a casual gathering with friends and soon they were inseparable. Chris asked for Jessie's hand in marriage, on bended knee, at a Christmas Eve dinner with her entire family in attendance.
Over their nine-month engagement, Chris let Jessie take the reigns on the wedding planning. "You want your wedding to represent you as a couple. I was lucky because Chris trusted me to make this happen," Jessie says. The bride had a very particular vision of the type of wedding she wanted—one that would best reflect their personalities—and wedding planner and designer Ramona Arnold of Simple Country Weddings & Vintage Décor Rentals went above and beyond to make Jessie's dreams a reality.
The Bohemian country chic design was a beautiful combination of Jessie's free spirit and Chris's country boy heart. Set at Squirrel Creek Ranch in Grass Valley, the traditional ceremony was held under a grand oak tree surrounded by wildflowers, and followed with a reception featuring picnic tables and café lighting inside a rustic barn. Some of the wedding's most unique aspects included a cigar bar and cocktail area with hay bale couches; a bonfire, a pie dessert station, and the gifting of bee-friendly wildflower seeds as favors.
Searching for a photographer whose style would complement the relaxed, country feel of the couple's nuptials was no small feat, but after a diligent search Jessie found Kris Holland of Kris Holland Photography. "We wanted someone to capture the overall feeling of our wedding. And Kris really did just that." Holland, who played at Squirrel Creek Ranch regularly as a child, was well versed on everything the spectacular setting had to offer. He was able to catch special moments and fine details, while remaining unobtrusive—allowing Jessie, Chris and their guests to focus on enjoying the day instead of being on camera.
From Jessie and the bridesmaids' cowgirl boots to the eclectic collection of vintage dining wear, everything about their wedding encapsulated the beautiful combination of two unique souls.
"I think guests will remember the feeling of love in the air that day," Jessie says.
As for how marriage has changed their relationship, Jessie explains that their love has grown even deeper, giving her "a sense of security and a feeling of forever."
—Abigail Blank