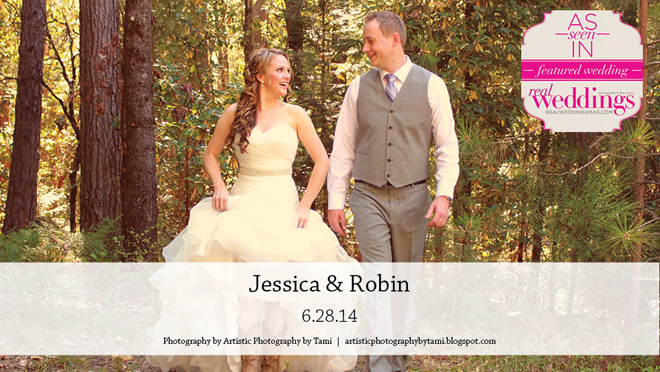 A love affair that began with a few moments of courage in a San Diego bar reached the ultimate destination of a country wedding in Nevada City this past June. It only took seven years and navigating many separations for Jessica and Robin to see their dreams come true.
Long ago, Robin was a bouncer in the aforementioned bar and Jessica spotted him, found the courage to talk to him and then, through a twist of fate, was left without a ride. Robin came to the rescue and thus began a relationship that endured many challenges. "We only had a couple dates in San Diego and then life, in all its complicated glory, tore us apart," Jessica remembers. Through job changes, school and several moves, they briefly lost touch. That was until Robin, now a maritime counter-piracy consultant, was sent overseas to do contract work in Iraq. Jessica emailed him for some tips on an upcoming Southeast Asia trip, and the spark was reignited. They stayed in touch constantly, buoying Robin during his yearlong stint in the desert.
Eventually, the couple could not stand life apart, and both moved to Tacoma, Washington, to be together. With their relationship clearly established in the serious category, Jessica doesn't deny her openness about expressing her wedding bell dreams. "I have to admit I was quite vocal about it," she laughs. "Poor guy, I'm surprised I didn't scare him off."
Following an elaborate engagement plan Robin pulled off on the Seattle waterfront, the wedding wheels were in motion. Jessica's parents' home in Nevada City, on five acres, proved to be the perfect spot to seal their love. With over a year to plan, Jessica's family transformed the grounds into lush gardens and a stage area that was everything the couple dreamed of for their country wedding—complete with bride and bridesmaids donning cowboy boots.
Jessica's focus was to make the event personal, romantic and fun for their 135 guests, with unique touches such as personalized drink stirrers and straws, a photo booth and handwritten invitations. Jessica's aunt performed the marriage ceremony and the couple decided on the symbolic act of planting a tree together, which will serve as a meaningful reminder of where they come from. "We both took soil from a place that was special to us," Jessica explains. "Robin took soil from his favorite park in Tacoma where he grew up, and mine came from the shores of the Yuba River where I grew up. We each poured the soil into the potted tree to symbolize the joining of our two lives and families. Now we have a beautiful tree that we get to watch grow over the course of our lifetime!"
"The most memorable moment is when I looked over and realized my dad had stripped off his jacket and tie and only had on his undershirt and was dancing up a storm with all of my friends!" remembers the bride.
A romantic setting of fairy-lit woods, dancing and music capped off a glorious day the happy couple will always remember. Says Jessica: "It was breathtakingly beautiful and we truly felt enveloped in love!"
―Carrie Poggio