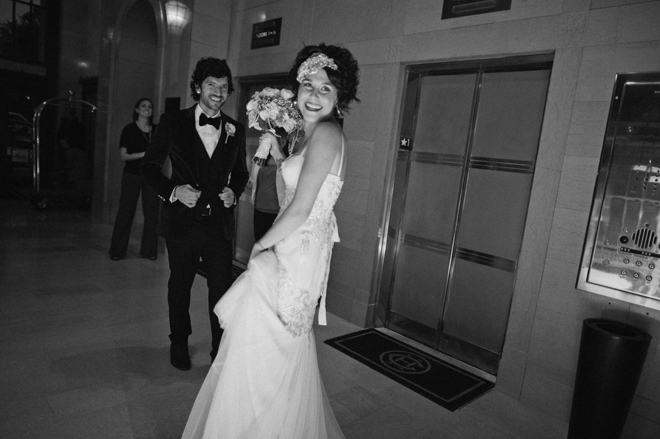 As if a girls' trip to Mexico for her birthday wasn't gift enough, Jillian's trip ended with her boyfriend waiting for her at the airport holding a sign that read, "Will you marry me?" Relaxed, tanned and newly engaged, Jillian was in no hurry to rush to the planning; rather, she took a few weeks to relish in the moment, and after about a month of just enjoying engaged life, began planning.
The bride says that she was glad her sister had gotten married first, so she knew just what she was getting into. While she was initially overwhelmed by the thought of selecting a location knowing that Sacramento was home to tons of amazing wedding venues, her decision was made the minute she entered The Citizen Hotel. Selecting her photographer was the next easiest decision: Having seen some of Sarah Maren's work in magazines, she knew she was her top pick, and after meeting the photographer, the deal was sealed. Sarah offered Jillian some of her own planning advice: Get a wedding planner! Enter Kate Miller Events.
Thanks to Kate and the bride's other chosen wedding professionals, Jillian says she felt "eerily calm" on her wedding day—that she didn't have to worry about a thing and only had momentary butterflies and nervousness right before she walked down the aisle.
The ceremony was classic with great attention to sentimental detail. The bride was presented with a gorgeous bouquet designed by her florist, Shannon Cosgrove-Rivas with Flourish, which had a poem pinned to it to remind Jillian of her grandmother. Each of the groomsmen were also treated to something special and unique—charms hand-selected by Dustin that were pinned to their boutonnières. And, rather than having flower girls, Jillian's nephews served as "flower chuckers." The couple was thrilled when their pastor surprised them by reading something he had them do when they first got engaged: List the top ten reasons why they wanted to marry one another.
Jillian and Dustin wanted their wedding to be a blast. To establish their desired atmosphere and eliminate much of the reception work—or as the bride calls it, "seating charts and all that jazz"—they decided to hold a cocktail reception. Guests were treated to heavy appetizers including tomato soup shooters topped with a grilled cheese triangle, a blue martini with blue raspberry rock candy stir sticks as the signature drink, and enjoyed a lounge area, high boy tables and large seated tables. The lounge-style ambiance, complete with lots of candles, helped create the old Hollywood look and feel that the couple wanted. For their first dance, Jillian and Dustin took lessons and practiced countless times to ensure that they looked good and not like two awkward eighth-graders. Well, Jillian had never practiced in her dress and during the dance the dress became such a comical nuisance, that she hoisted the train over her shoulder—the couple laughed and continued dancing. Not exactly the "perfect" dance they were hoping for, but when describing the experience they said that it was "so us." Just as it should be.