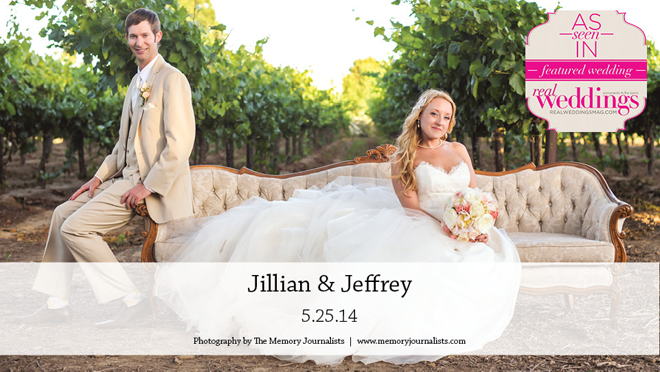 When a quick drink turned into a five-hour dinner, Jillian and Jeff knew they had found something special. The couple met online and, after communicating via email, decided to meet for that drink; from then on, they have been inseparable.
Both believe that fate brought them together. Baltimore native Jillian, a registered nurse who took a few stints as a traveling nurse, wanted to move permanently to New York City but before doing so, she decided to take one more traveling nursing job. She was placed in Reno and credits that decision with changing her life. "Making that decision, listening to that little nagging voice saying 'just take one more assignment' finally brought me to the love of my life, my soul mate, my Jeff," she says. "Isn't life amazing?"
Jeff, a college English instructor, who grew up about 90 minutes from Reno, moved to the city when he was studying for his masters degree.
They got engaged before a vacation when Jeff gave Jillian a box of random things like gum, tissues and candy, as well as the ring box. He said that she could keep everything if she could identify what they were with her eyes closed. "When she was feeling the jewelry box in her hand, trying to figure out what it was, I took the opportunity to get on my knee, and told her to open her eyes," says Jeff. "She saw me kneeling before her, and the ring box in her hand, and I asked her to marry me."
Their wedding in front of 90 guests at Scribner Bend Vineyards included a rose ceremony to honor their mothers and a wine ceremony to remind them of the richness and sweetness of life. The couple wrote their own vows, too.
Their colors were coral, blush, fuchsia and gold to reflect softness and femininity. For a vintage feel, they had many gold elements, including gold flatware. A rented couch provided a fun, vintage backdrop for their wedding photos.
The invitations, menus and programs showcased writing from the bride's favorite poet, Rumi, including an excerpt from the poem, "With Passion" that read:
"With passion make love. With passion eat and drink and dance and play."
While the couple didn't see each other before the wedding or shoot first look photos, they had a "first touch" photo shoot, where they stood on opposite sides of a door and held hands while the photographer captured their excitement on camera.
Jillian chose a cream ballgown with a sweetheart neckline, a lace bodice and buttons up the back. Jeff wore a tan suit, with a matching vest and a cream tie.
The bride was so excited on the wedding day, she had to tell herself to slow down! "He looked so handsome in his suit and when our eyes met we didn't look away," she says. "In that moment, I was his and he was mine, forever."
After the wedding, the couple honeymooned for three weeks, including time in Napa, Los Angeles, Grenada, Las Vegas and Yosemite.
—Kristen Castillo