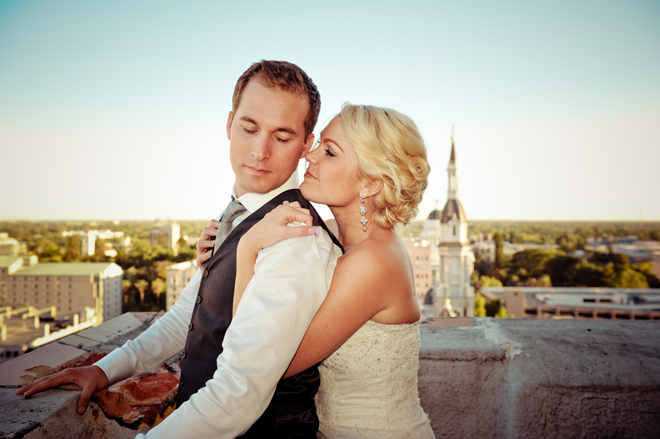 It was a rainy night in Sacramento when two weary-eyed customers entered the bar Fire Dance. Kaci was coming off of finals at Sacramento State and Nick had finished his 11th night in a row of work. But the two were able to stay awake long enough to meet, share a beer, make a date for the New Year and eventually, four years later, make a lifelong commitment to one another.
For this couple, family is what sealed their bond. "I knew we were meant to be together when I learned of Nick's extraordinary love for his family," Kaci says. "He treats his family with respect; he values his relationship with his parents, and his siblings are his best friends." Nick learned of Kaci's commitment to her loved ones early on. "I knew the first time I visited her place that we were meant to be together," he says. "Everything was so cute and organized, with happy pictures of her friends and family everywhere."
Though a vacation to St. Thomas had a not-so-smooth beginning, it ended with sand, sunsets and an engagement. The couple was alone when Nick dropped to one knee and pulled out a glass ring he bought on the island—not daring enough to carry the real ring in a suitcase onto a sailboat.
About a year later, the couple tied the knot with a large ceremony of 250 guests at the Holy Spirit Church, nestled in Land Park. A power outage, just one hour before the union, turned what could've been a disaster into a romantic candlelit ceremony. A reception followed at The Elks Tower, located in Midtown Sacramento, just a few blocks from the couple's loft. The ballroom's original detail complemented the classic, vintage theme of the wedding.
Kaci didn't want to lose the beauty of the venue, so included amber uplighting on the room's columns to highlight the detail. Tables were draped in dazzle charcoal linens and lined with beaded metal flatware. In the center, tall glass vases with curly willow, ivory hydrangeas, circus roses, phalaenopsis and peonies stood. In addition, several gold votives were placed on each table.
The head table was fit for a queen, king and their royal court of 26. Located in the center of the ballroom, two large trumpet vases overflowing with ivory hydrangeas, ivory calla lilies and apricot roses sat tall on the table.
Some of the little touches to make the reception unique included a lounge in the mezzanine—complete with padded benches, pillows and tall cocktail tables covered in orange dazzle linens and votives—a photo booth, signature cocktails and a giant stage for the band.
What stood out most for the bride and groom? "The unbelievable amount of love, joy and support in one room—250 guests, friends and family celebrating our love was captivating," Kaci says. For Nick, it was the fated power outage. "Once I walked inside and saw the votive candles and the light coming through the stained glass windows, I was quickly reassured. Watching Kaci walk down the aisle, feeling the breeze come into the church, I smiled and thought to myself, 'This is the way it was meant to be.'"