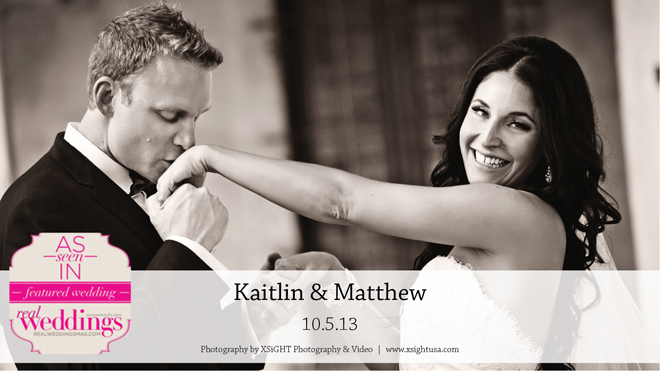 You know those stories about people meeting and falling in love at other people's weddings? Well, they do happen…often to those who work in the wedding industry. That's exactly what happened to Kaitlin and Matt seven years ago. At the time, Kaitlin was working for a wedding planning firm, and Matt was (and still is) one of the principal entertainers for Extreme Productions Entertainment in Roseville.
About three months into dating Matt, Kaitlin shared her lifelong dream of traveling and studying abroad in Italy. He encouraged her to go for it, so she and her sister left for the five-month trip. Though they connected as much as possible over the phone and via email, Matt visited her in Italy before the end of her trip. "It was on that trip that I knew if I were to ever propose to Kaitlin, I would do so in Florence," Matt shares. Flash forward five years, and the couple is on a six-week European adventure with a stop in Florence. Walking along the Arno River, Kaitlin and Matt would find themselves in the middle of a piazza between two historic museums, alone. "He got down on one knee, pulled out a ring from his pocket and did what every macho man would do in this situation—he started tearing up and, with a quivering smile, said the words "whi, whi, will you marry me?" Kaitlin remembers fondly.
Having friends and family around them was number one on the agenda when planning the wedding. "We wanted an intimate celebration surrounded by those we love and wanted to spend as much time as possible with them," says the bride. "From the rehearsal dinner that Matt's parents arranged, to the welcome party that the families arranged, it was the perfect weekend."
From the moment of their engagement, the couple knew having experience in the wedding industry would serve them well in the months and weeks leading up to the big day. "A wedding planning team is worth their weight in gold and allows a couple to enjoy so much more of the wedding experience," shares the new bride. "If there are any issues or challenges, they're your advocates. If you have questions or need advice, they're there to create solutions." Matt knew Amy Byrd and the team at Amy Byrd Weddings and Events out of Carmel for years, and they not only let the newlyweds enjoy their day, but also made them feel like they had a team at their side, always looking out for their best interest.
With the intention of recreating the "feel of Italy" with the ocean as their backdrop, they chose both the Santa Barbara Mission and the Bacara Resort and Spa for the Mediterranean-inspired event. "The design of our wedding was paced so that our guests could enjoy great company, thoughtful menus and sip on their favorite beverages," says Kaitlin. "Our DJ, Joe from Extreme Productions Entertainment, and the fabulous band, Instant Replay, had the dance floor packed all night."
"We didn't want our wedding to end. Seeing all of our friends and family smiling, laughing, hugging, dancing, celebrating…it was the best."
One of the most memorable moments of the night was the anniversary dance. Matt's grandparents were the longest married couple in attendance. "When Nana found out that she won…you would have thought we were giving her a car and a trip to Bermuda," says the groom. "'I've never won anything before!' she proudly exclaimed, hoisting the bridal bouquet in the air like she dominated the Olympics. It was hysterical."
— Darren Elms