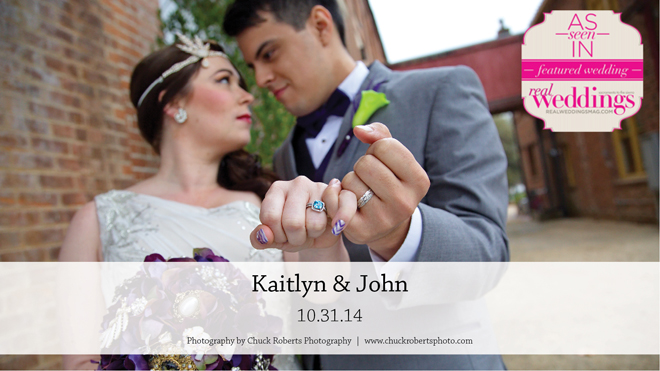 Kaitlyn and Johnny first met in junior high school, when he was assigned a seat just in front of her in math class. "He obviously made an impression on me," she says. As for Johnny, ever since then he's been drawn to her. The two dated for a year in high school, and then when Kaitlyn returned from college, he asked her out. After that one date, they became inseparable.
Kaitlyn's favorite city is Washington, D.C., and is particularly fond of the Washington Monument, so when the two decided to travel there, Johnny figured it was the right time and place to propose. Unfortunately, they found out the Washington Monument was closed because of an earthquake, so ended up on the second floor of the Natural History Museum.
"I tried six or seven times [to propose] but people [kept walking] into the room," Johnny says. "Finally we were at a good spot, looking at the rotunda, and there was no one around." He didn't say much, but showed her the ring; she didn't say much either, but gladly accepted.
They decided on a Halloween wedding with the Old Sugar Mill as their venue. Kaitlyn chose her dress for its 1920s flowing elegance, featuring a heavily beaded top, and accessorized with a headpiece similar to one worn by Daisy in The Great Gatsby. Guests were also encouraged to dress up in 1920s attire.
As a unique touch, Kaitlyn's friend, Victoria Mak, made a brooch bouquet for her―she started with family brooches and augmented with inexpensive glittery jewelry from a flea market.
One of their best friends from high school, Timothy Delevan, served as the officiant. The three of them worked on the ceremony beforehand, and found Timothy was good at enhancing the words with colorful and eloquent language.
When asked what advice they'd offer other couples tying the knot, Kaitlyn recommends scheduling the hair and makeup professional at least two or three months in advance. She tried to book three weeks before the wedding, and "thought it would be no big deal, but apparently it is…One lady said she was booked up for the entire year, but she had my date open just because it was Halloween," Kaitlyn says. The couple also says that—if you can—not to skimp on money and to go the extra mile.
The ceremony was fun and not stuffy, Kaitlyn says. "I've never seen a wedding with people cheering and screaming. It was like a big party the minute we walked in." They found that they were on the same track with their vows, too, as they both referred to Dr. Who. "I believe if you look hard enough there are more wonders in this universe than you can ever dream of," Johnny says.
Both agreed that they want to keep the adventure in their life. "We don't spend a lot of money on material stuff," Kaitlyn says. "We save our money so we can travel. Memories last a long time."
―Margaret Snider