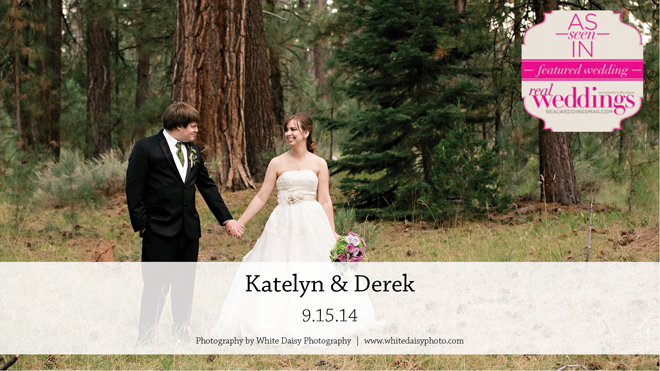 They say the best relationships start off as friendships. This rings true for Katelyn and Derek, who met through a mutual friend and ended up bonding after playing the video game Legend of Zelda together. They began dating in August 2010; one week later, Derek expressed his love for Katelyn—she felt it too.
During the next couple of years, the couple became inseparable, and in early 2013 visited a park bench they often frequented. Derek gave Katelyn a limited edition Legend of Zelda 3DS gaming console—complete with the newest Pokémon game she had been waiting to play. "It was a little frustrating because he had already started the game, but when I opened the party menu each Pokémon's name was titled 'Katelyn,  Will, You, Marry, Me?' I looked up and there he was, down on one knee," explains Katelyn. Their engagement lasted about a year and half, and they planned for a September wedding.
Surprisingly, Katelyn was "hands off" during the planning process, as she was either working or going to school full-time. With help from various family members, especially Katelyn's mother, the couple chose to incorporate the feel of the video game they first played together into their wedding, along with their interest in Norse mythology, hence the Valhalla Grand Hall in Camp Richardson, South Lake Tahoe as the wedding venue. "We wanted something that felt whimsical and woodsy," describes Katelyn. Their colors were purple, dark olive green (the duo's favorite colors, respectively) and ivory. The wood in the surrounding area gave guests an enchanting feeling, which was just what the couple desired.
The wedding was charming and fun, but also very personal, especially when pictures of both Katelyn's and Derek's grandfathers were added to her bouquet. They then added those pictures to their grandmothers' photos as well and displayed them during the reception. "We wanted our grandmothers to know that they were there in our hearts and weren't forgotten on our special day," Katelyn says.
As the day came to a close, the remaining guests formed a circle around Katelyn and Derek and sang and swayed to the song "Good Riddance" by Green Day. It became very emotional for the couple because they could feel the great amount of love surrounding them. "It was truly an amazing evening, and I was so happy that so many people we loved could share it with us," the bride says.
As for the newlyweds, married life hasn't changed them much. This self-proclaimed "silly couple" still continues to grow, and they are having the time of their lives.
—Emily Peter