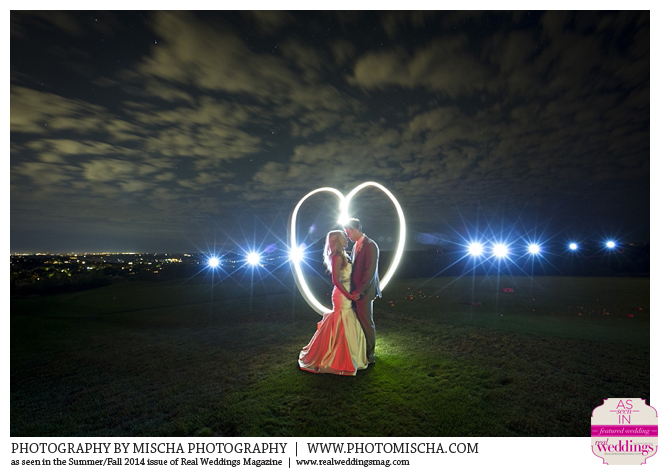 Sacramento residents Kelly and Shelby have known each other for quite a while. The two met through mutual friends while attending California State University, Sacramento. Kelly says that they were friends for three years before even dating. "The timing was right—we just started hanging out, and the rest is history," she says. "Literally, from the moment we first started dating, we've hung out almost every day since."
After a four-year courtship, Shelby popped the question in front of Cinderella Castle at Disneyland. Kelly recalls that he surprised her by making her turn around and placing Mickey Mouse ears on her that had a bridal veil attached. "As I felt the veil, I was like, 'oh my god,' and I started crying," she remembers. "It was perfect."
The couple soon began planning their wedding and tied the knot about a year and-a-half later. They chose Serrano Country Club in El Dorado Hills for both their ceremony and reception, and decided to work with wedding planner Debra Hiebert of Très Fabu Events. "She was amazing—she helped me out a lot," Kelly says.
For Kelly and Shelby, the most important part of their wedding day was the ceremony. The bride says that they wanted a wedding officiant who meant something to them and knew the couple. They ended up asking Shelby's best friend, whom he's known since the age of 13. "He has gotten to know us on such a personal level, [and is] so great with his words and is very religious, which was very important to us," Kelly explains. "He performed the ceremony and it was so great."
The couple celebrated with about 200 friends and family at a traditional reception with a few modern touches, such as gray and white chevron napkins on the tables and colored lighting. They also incorporated a few Disney touches, including framed photos of Mickey and Minnie dressed as bride and groom when guests first arrived.
"Once you get to the ceremony and the reception, everything goes by so fast," says the bride, "so do the best you can to honestly just enjoy the moment and soak it all in."
And the happy couple even got to celebrate their nuptials later that evening. Kelly says that they ran behind during the reception and decided to cut out the bouquet and garter tosses. But, later that evening, the party moved to a local nightclub. "We actually did [the tosses] there, which was really fun," Kelly says. "Everybody who was there that hadn't been a part of the wedding got to partake in it!"
For brides-to-be, Kelly suggests that—if it's in the budget—to try and use a wedding planner, or at least a day-of coordinator. "They take so much stress off of you the day of—you don't want to have to worry about all of these little things coming together," she explains. She also suggests looking into a videographer. "[The video] really captures the whole day."
Most of all, Kelly tells soon-to-be married couples to make sure to enjoy the day. "Once you get to the ceremony and the reception, everything goes by so fast, so do the best you can to honestly just enjoy the moment and soak it all in."
—Corrie Pelc