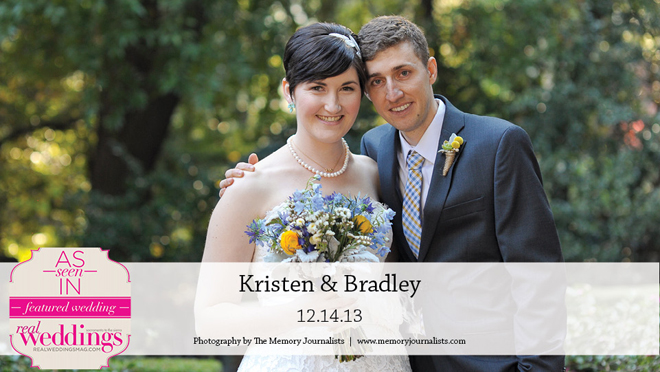 Theirs was the sweet synchrony of arpeggios and algorithms. Tall, cheerful violinist Kristen and taller, curious mechanical engineer, Brad found themselves drawn to each during a conversation about classical music while at UC Davis. Seven years later, at the very place they first became a couple—Lake Berryessa—Brad rented a car with a bench seat so that Kristen would be by his side—in keeping with the lyrics of their song, "Stick Shifts and Safety Belts" by Cake (a song they would eventually enter their reception to)—and proposed to her in between dinner and champagne.
Now that their relationship was "set in stone," Kristen got to work. "I'm only slightly embarrassed to say that my mom and I already had binders full of ideas by the time Brad proposed, since we had seven long years to think about it! But they were really just for inspiration," she quips. Kristen quickly turned wedding preparations into a family affair and got her dad and brother to build platforms for their potted succulent favors, while both mothers made dozens of gold-painted pine trees out of maps and sheet music.
"The two things that were most important to me were music and photography." remembers the bride.
"The Dolanc String Quartet was a must-have, as I had played with them for several years; and after years of admiration, I knew I wanted The Memory Journalists to shoot our wedding," Kristen says.
Their winter wedding at The Tavern at Lark Creek in Larkspur was one of warmth and whimsy. Kristen was adorned in lace and pearls and her bridesmaids wore shades of blue, while the men's attire "looked like something from an old haberdashery," she muses. As a tribute to family, heirlooms such as her grandmother's old kitchen scale and a barometer that used to sit on her grandfather's dresser added to the décor, along with a special cake topper belonging to Brad's aunt (who lost her husband soon after she married him). A vintage popcorn machine, old books and robin's egg blue tins added to the eclectic elements that seemed to come together in harmony—or "organized chaos," as Brad calls it. "We wanted the wedding to be warm, yet carefully calibrated…just like a robot!" he adds.
Guests were treated to hits from the '90s and an open bar that never seemed to close! To top it off, Kristen joined her string quartet to play "Sweet Child of Mine." When the two lovebirds finally drove off into the sunset, they listened as the cans tied to the back of their truck dropped along the way one by one. "It's really nice just being able to be with each other all the time," Brad confesses. No more are stick shifts, safety belts and bucket seats going to keep these two apart!
―Tara Mendanha