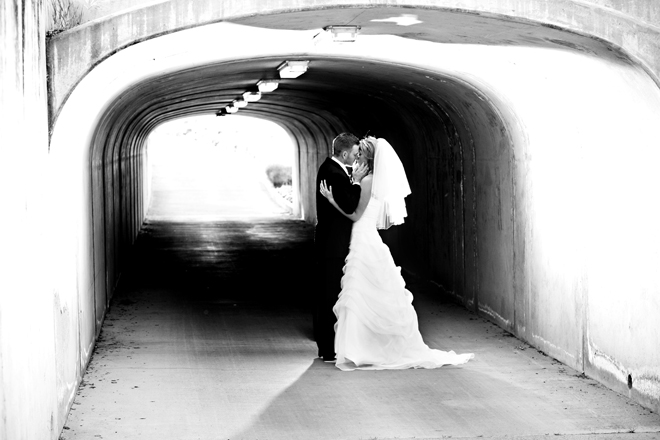 There are a lucky few in this world who get to experience the wonder that is love at first sight. But for Krystle and Tim, that was exactly what fate had in store. From the moment they were introduced to each other by a mutual friend, they have been nearly inseparable.
After a three-year courtship, Tim, a fabricator and CNC machinist, planned an elaborate beach proposal for Thanksgiving weekend of 2010, but his excitement got the better of him. "Krystle had left the room for just a minute, so I took the opportunity to get the ring ready. When she returned, I pulled her close to me and told her how much she meant to me and how I wanted to spend the rest of my life with her," Tim says.
Both Krystle and Tim, having their hearts set on a springtime wedding, chose to have a longer engagement—providing plenty of planning time. The bride, an analyst in quality assurance, did the majority of the planning with her mother, but admits that her groom was a good sport about all of the hoopla. "Tim was a trooper and went to the bridal shows, and was involved in picking out his and the groomsmen's attire," Krystle says, "but his favorite part of planning was the cake tasting."
A deep, rich purple with delicate green accents set the mood for an elegant and romantic wedding reception at the Timber Creek Ballroom. It was a classic affair with a flair for fun—one that reflected the friendship and deep-rooted love between the couple. They incorporated traditional elements, of which the most important was the bride and groom not seeing each other until they walked down the aisle; yet their vibrant personalities shone through in little touches, like having the groomsmen wear Vans instead of dress shoes and a self-serve candy bar at the reception. "It was so important that I kept Tim's and my styles, likes and wants in the wedding style and planning, because it is a day you always will remember, and you do not want to look back with any regrets," Krystle says.
Though the couple agrees that most of their guests will have fond memories of the fun touches they added—like a rousing round of The Newlywed Game and a carnival-esque photo booth—for them, the ceremony held all of the day's magic. "Since we remained traditional in not seeing each other before the wedding, we both had so much anticipation and excitement built up; once the ceremony began and we both set eyes on each other, this was the most memorable and unforgettable moment."
In keeping with the lively feel of their wedding, Tim and Krystle began their honeymoon with an overnight visit to Disneyland and ended with a romantic escape to Catalina Island.