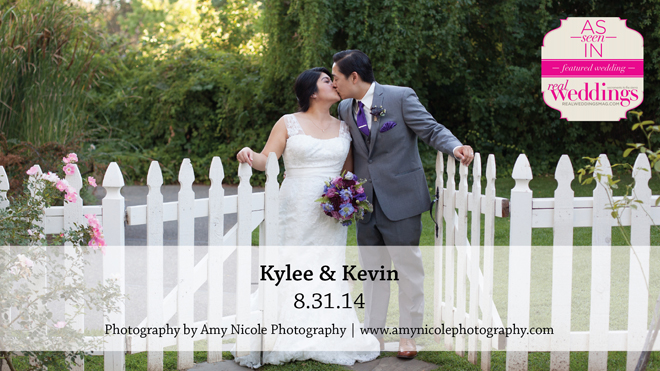 Both Kylee and Kevin grew up in Sacramento, their childhood homes less than one mile from each other, but they wouldn't connect until sharing a calculus class in high school. Friends at first, they each went off to college, stayed in touch, and eventually moved back to Sacramento to work and be closer to their families. "Kevin and I starting grabbing dinner, watching movies [and] going to happy hour together—all the while remaining close friends," shares Kylee. "We didn't even realize we were going on dates…at least I didn't realize we were going on dates." After six years, both realized they really cared and loved one another and made it official.
While visiting Watsonville and the beach that Kylee visited often as a child, the couple woke up one morning to walk their dog along the beach. "I noticed he was very quiet," she says. "He styled his hair and put on actual jeans and a nice shirt. I rolled out of bed, tied up my hair and threw on a sweatshirt. I'm not even sure if I brushed my teeth." After a somewhat silent walk, Kevin got down on one knee and opened a ring box. "He had a whole speech, but our dog started barking and running circles around us so I couldn't hear anything…" After he cut to the chase and popped the question, Kylee said "yes."
Not a couple that likes to be the center of attention, they planned for a quick wedding ceremony so their guests could have plenty of time to enjoy themselves at the reception. "We wanted a "laid-back" atmosphere where our guests would be comfortable, well fed and happy," Kylee says.
The outdoor ceremony was held at The Flower Farm under a beautiful tree. Kylee's uncle Alvin, whom she says has always been like a second father, officiated. "We made our wedding quite the family affair. My uncle was the officiator and Kevin's cousin and her kids played the ceremony music. The ceremony was romantic and tranquil. We really felt loved by all of our close family and friends, especially since our family was so involved."
At the reception, guests dined on "good ol' comforting barbecue" from Lucille's Smokehouse Bar-B-Que and danced the night away in a fun, casual environment.
But the new bride says the best part of the day was finally being able to wind down with her new husband. "At The Flower Farm you can rent out all of the cottages for you and some of your guests, [which] was one of the best aspects about [the venue]," she says. "Instead of having to catch a limo or drive to a hotel, you can stay on site and enjoy yourselves. We rented out all of the cottages for our bridal party, [and were able to relax] after a long and eventful day."
―Darren Elms