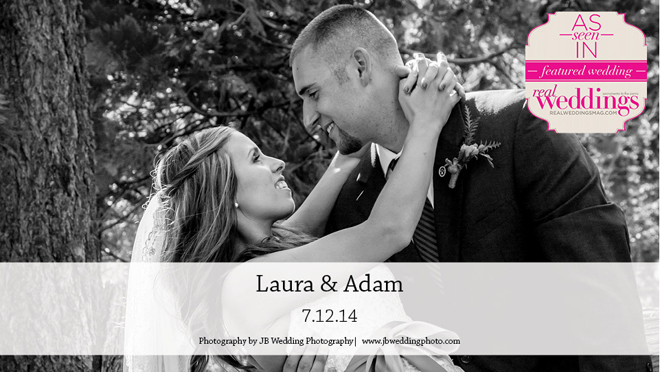 "Growing up, I always said I'd get married in Tahoe," Laura recalls. It was, after all, where she spent countless summers at her family's cabin. She also wanted to wear a lace dress. So Tahoe and lace it was! Now all she needed was the groom.
Enter Adam. The two first met in high school when Adam thought she liked one of his friends and poked fun at her. That didn't go down too well with Laura. Luckily for him, though, her friends lied to him saying she liked him instead and suggested he ask her out. He did, and Laura thought, "Why not? This isn't going to last forever!"
Fast forward nine years later, and there they were, standing on the pier at Lake Tahoe on a chilly afternoon with Adam down on one knee and Laura completely taken by surprise. As cars drove by honking their horns and yelling, "Say yes!" she obliged.
The couple had been warned by married friends to have fun at other people's weddings, as it would be impossible to have fun at their own. Laura and Adam were determined to prove them wrong. Having belonged to a fraternity and sorority, they knew how to throw a party and set out to plan the biggest one of their lives. Adam took care of the vendors while Laura dealt with the finer details of colors and outfits. The bride got her lace gown and rich, red dresses for her bridesmaids, while the men looked cool in blue.
Their "I Dos" were uttered at Granlibakken in front of over 170 people under clear blue skies and a backdrop of pine trees. After a quick ceremony conducted by one of Laura's closest family friends, they were married. "We spent 10-and-a-half years being together, but after the kiss, the clock reset and we began again with day one," Adam says.
The festivities then began, and not a minute too soon! If people weren't on the dance floor, they were busy savoring some of the much-raved-about food—but mostly they were just dancing. Lace and burlap dressed the tables, courtesy of Laura's handiwork, while Adam's handcrafted boxes posed as centerpieces, and a jar of customized monogrammed chapsticks and boxes of matches were set out for guests. The weather was perfect, the party was in full swing and there were even champagne showers (thanks to an over-zealous friend) thrown in for good measure. The fun continued indoors after 9 p.m. and went on until 2 a.m.
"We've been through a lot in our decade together," says Laura, as Adam adds: "We started out as young kids in school and have grown into young adults with a lifetime of love ahead of us."
―Tara Mendanha