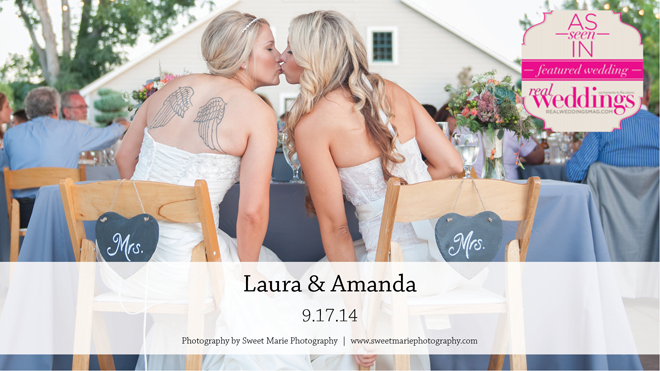 Laura and Amanda are proof that love can bloom online! While attending college in Kansas, Laura found Amanda on a social media site and sent her a personal message. The two started talking online and then on the phone. "We spent almost every day on the phone for hours talking about everything," says Amanda. "We never had a moment of silence and always wanted to share everything with each other."
They met in person in December 2008 when Laura flew to California and spent a week with Amanda. A long-distance relationship continued until Laura, a nursing school student studying to be a pediatric nurse, moved west to live with Amanda in southern California, where she was a police officer at the time.
After three years of dating, the two got engaged on a weekend getaway to Mendocino. Amanda wrote, "Will you marry me?" in the sand, dropped to one knee and proposed. Laura said yes, and the two soon started planning their wedding.
Two years later, they married in an outdoor ceremony and reception at Scribner Bend Vineyards. They loved the venue's look and feel. The cottage home where they got ready reminded Laura of her hometown in Missouri, which also made her family feel welcome.
The guest list included 90 people, with about a third of them from out of state, including Laura's family from Missouri and Florida. They exchanged "I Dos" on a grassy area in the vineyards, and because there wasn't a wedding party, "everyone's eyes were focused on us," says Amanda. "We were escorted by both of our parents—holding the hands of our mothers (best friends) and through the arms of our fathers (our guardians)." Amanda was so excited that she "ended up kissing Laura before the officiant gave [them] the go ahead."
For traditions, they had a prayer before the ceremony started, as well as a blessing before dinner. The brides also had their first dance with their parents.
Seeing each other for the first time was magical, says Amanda. "When I turned around for our first look photos and saw my soon-to-be wife, I was in shock," she says. "All I kept thinking was 'I [am] the luckiest person in the world.' I felt like nothing in the world mattered but that moment in time."
The feeling was mutual with Laura. "It took my breath away to see Amanda for the first time. She looked absolutely beautiful. I was in awe as I admired her dress and beautiful face. I felt like I was meeting her for the first time again and just wanted to hold her close," remembers Laura.
—Kristen Castillo