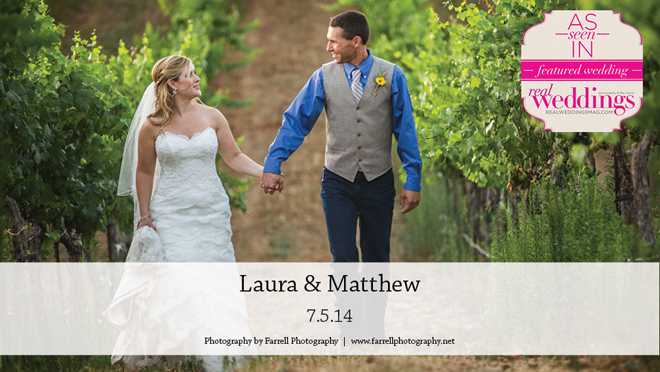 Shortly after she was involved in a serious car accident that claimed a friend's life, Laura met Matt, the most "genuine and caring man" she has ever known, on eHarmony. Following her tragic loss, Laura says she developed a deeper appreciation for life and her loved ones, which was strengthened by her future husband's unwavering support throughout her recovery process.
"We had a connection that very first time we met in person for dinner," Laura shares. "We are supportive of each other's careers and interests…and he makes me laugh!" To hear Matt tell it, the pair "just clicked" and it didn't take him long to realize he'd found an amazing woman. After dating for nine months, the couple made plans to embark on a Mexican cruise with Laura's family for Thanksgiving and Matt saw the trip as the perfect opportunity for a memorable proposal. In what Laura refers to as a "fun coincidence," he selected a breathtaking princess-cut diamond and sapphire engagement ring just before they set sail on a ship called the Princess Sapphire.
"We were getting ready for the first dinner on the ship and Matt had his suitcase out," Laura recalls. "I noticed a small black box and he saw me see it." An on-the-fly fib ("He said, 'Oh, this is just my tie tack…'") gave Matt enough time to produce a different black box while Laura finished getting ready. After playfully teasing her groom-to-be about the apparent prank, she was stunned to find him on bended knee.
"I knew that she was the one and that she would say yes, but every guy gets nervous when they are going to ask the big questions," Matt reflects. "She was so surprised, she never knew it was going to happen there. At dinner, we surprised her family with great news."
The outdoorsy, summer-loving pair say they settled on their July 5 wedding date in part because they loved the idea of fireworks each year on their anniversary, and throughout the planning process, they turned their attention toward creating a genuine and heartfelt environment. A shared love of elegant country décor led the bride and groom to turn items from Matt's family farm, including mason jars, wooden cherry crates and horseshoes, into unique decorative elements. "My mother," Laura says, "was a huge help in the planning process, and our florist came up with great ideas. I think together my mom and the florist could pull off anything!"
Following one final night of pre-marital fireworks, the couple tied the knot at Plymouth's Bella Piazza Winery in a ceremony officiated by the bride's younger brother, Jeff. In keeping with the celebration's family-oriented feel, the couple served oatmeal cake and cookies made by the groom's mother and sister during the reception.
"We wanted our family and close friends to feel comfortable," Matt shares.
"We wanted things simple, but refined. We kept the atmosphere casual and everyone really enjoyed themselves," remembers the bride.
"It was a great day, but it went by quickly!"
―Morgan Cásarez