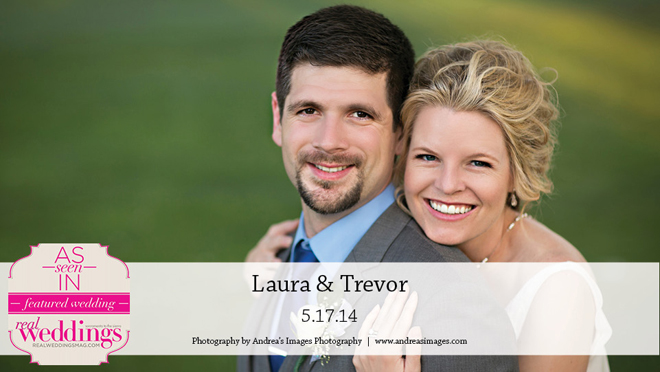 Laura and Trevor got a kick out of each other when they met. That's because they played on the same team for the XOSO Indoor Kickball League in October 2011. By December, they were dating. Trevor proposed to Laura in their backyard with roses and candles in April 2013, on her birthday. "We both knew what we wanted and found that in each other," says Laura, a pediatric occupational therapist.
To pay homage to the city where they live, Sacramento, the couple chose to marry at Haggin Oaks Golf Course. Trevor, a graduate student, is from Massachusetts and San Diego, while Laura is from Los Angeles. Since they wanted an outdoor venue, the golf course was ideal. Under a large tree, Laura and Trevor exchanged "I Do's." Their friend Katey, who was there when the couple first met, officiated. The ceremony was simple with the couple walking down the aisle with their respective families.
The bride's favorite wedding day memory was reading her vows. She worried she'd cry too much and while she wiped away a few tears, "powered through and was able to say them," she says. "I was so proud of myself. Then I really loved it when Trevor said his vows; it turns out we both talked about coffee and snoring, which was cute."
Laura's V-neck dress with a sash was simple and classic, which was a match for the bride who wanted a light dress that was easy for dancing. She accessorized with a vintage hat and veil; and a drop pearl necklace in the back with matching earrings and bracelets, which she borrowed from a friend. Trevor wore a European trim-style suit.
The wedding color scheme featured bright, multicolor flowers and bold blue cobalt bottles. An avid Dodgers' fan, Laura jokes the cobalt is "close to Dodger blue." She liked the color combination, calling it, "beautiful against the white tent and linens, and the green of the golf course."
Dinner for the 115 guests was family-style, with wine and beer from local breweries. "We also bussed our guests from the hotel to the wedding so everyone could drink and get back safely," Laura says.
The groom's advice for other couples? Make compromises as needed.
"You should pick a few things that you feel are the most important and be prepared to bend on the rest," the groom remembers.
The couple, whose "goal was to break from tradition," served a very untraditional wedding dessert: waffles from VolksWaffle food truck. "Neither of us wanted cake, and we wanted a personal touch for dessert," says Trevor, explaining the Belgian waffles were his favorite wedding detail. "The waffles were delicious and everyone loved them."
Laura and Trevor posed for wedding photos at the State Capitol before the ceremony and later in the day on the course for sunset photos. Nowadays, they're getting a kick out of married life, living in the bride's "cute little house" in Sacramento.
―Kristen Castillo