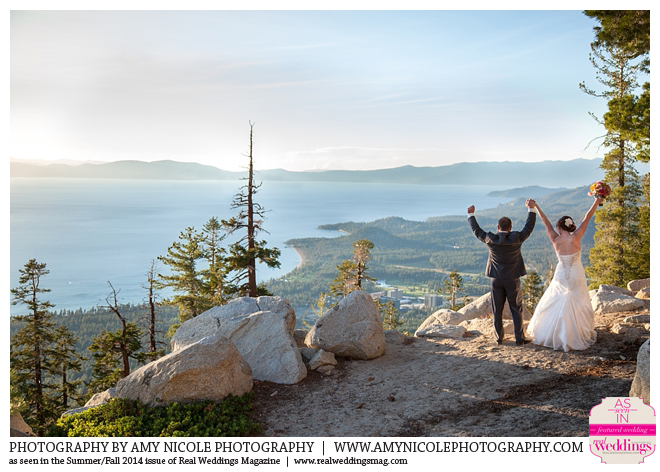 Leah and Zach elevated their love by exchanging vows at 8,200 feet in an outside ceremony atop Heavenly Ski Resort in South Lake Tahoe.
The outdoor enthusiasts met through mutual friends while snowboarding at Big Bear Mountain, where Zach spent the weekend teaching Leah how to snowboard.
She's a registered nurse and he's a U.S. Navy Rescue Swimmer. They got engaged in May 2012 during a Florida vacation. Zach proposed at Downtown Disney, a nod to the couple's first date, which was at Disneyland.
They chose to marry in Tahoe, a two-hour drive from their home, because it's a place where they've spent a lot of time. The wedding planning was long-distance since Zach and Leah lived in Fallon, Nevada, where he was stationed.
"It took many phone calls, emails and sending of pictures back and forth to get everything planned and organized," says Leah.
Even getting to the wedding was an adventure. The couple and their 85 guests rode 10 minutes in a cable car to the top of the mountain for the ceremony and reception at Heavenly's Lakeview Lodge.
The event's décor matched the couple's love for the outdoors. Zach and his best friend used a chain saw and a table saw to cut centerpiece bases and place card holders. Leah finished the look with "pine cones, moss and tree branches to help accent the mason jars and wild flowers placed atop the stump rounds."
The wedding's focus was on family and friends. The couple's close friends played ceremonial music; Zach's best friend officiated; the groom's aunt recited a reading about marriage; and instead of a ring bearer, the bride and groom's fathers held the rings.
Leah and Zach also remembered his late mother, who died seven years before the wedding. They left an open seat at the ceremony in her honor and had a burning candle on their reception table.
Following their vows, the bride and groom had a wine box ceremony, where they each poured a different wine into one decanter to make one wine. They also wrote a personal letter to each other, which was sealed and left in the box until their first anniversary.
"On our one-year anniversary we will open the box, drink the bottle of wine, read each other's letter and all of the letters from our guests," Leah says.
Their cake topper featured two snowboarders. Plus the groom's cake was a replica of an orange and white helicopter, like the ones Zach flies at work.
The couple had a "first look" photography session before the ceremony.  Before the shoot, they had some couple time too—they woke up at 7 a.m. to go waterskiing!
"She was so happy and was having so much fun. I will have pictures of her smiling face locked in my memory forever." says the groom.
The wedding day went by fast but the couple savored the moments. "She was so happy and was having so much fun," Zach says. "I will have pictures of her smiling face locked in my memory forever."
—Kristen Castillo