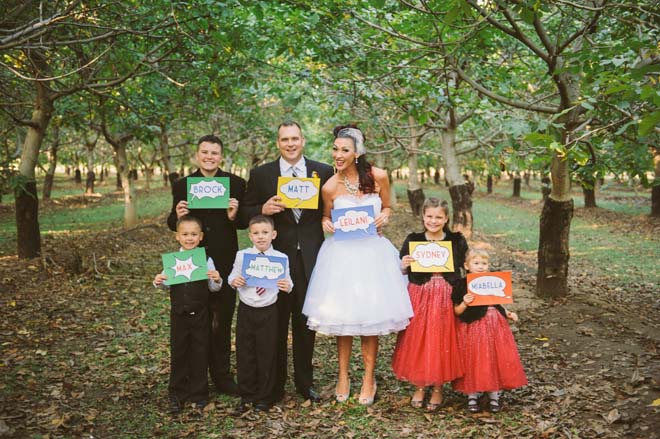 Though both raised in small farm towns, LeiLani and Matt seem destined to meet. Matt had relocated several times for work and LeiLani has lived in Hawaii and traveled extensively to Hong Kong, Cambodia and Romania, yet they connected while back in her hometown of Yuba City. Perhaps you don't have to travel the world to find the boy next door!
Six months into dating, they would celebrate their half-year anniversary on a summer night by the river at Scott's Seafood. "We were gushing over each other and our crème brûlée," remembers LeiLani, "when he said, 'you ready to do this?' He asked me to stand up and nothing could prepare me for the time-stopping moment when he got down on one knee and said, 'I love you and I want to spend the rest of my life with you, will you marry me?'" Once she caught her breath and said yes, they walked along the riverfront with a magical full moon above them.
The couple decided on a retro, rockabilly -inspired shindig hosted at LeiLani's uncle's car shop, complete with classic cars and a snap-on tool altar. "There were superhero aspects throughout, as Matt is Superman, and I, of course, am Wonder Woman," she smiles. "We had a huge dance party with our kiddos and friends and family to finish off the festivities. It was themed, gorgeous and a total blast."
LeiLani says she could not have done it without her fabulous vendors, or "friendors" as she would come to call them. "Being in the wedding industry for almost 10 years, it was a humbling and honoring experience being the bride and having them create my big beautiful day."
The new bride says that her favorite moment of the day was that "first look" at her groom-to-be in the enchanted and romantic orchard.
"I walked toward him with the understanding that this was the man of my dreams who I get to spend the rest of my life with and raise our children with—it was so surreal and beautiful; then, when he turned around, time stood still. He is my home. When our eyes met, I knew I had finally come home."