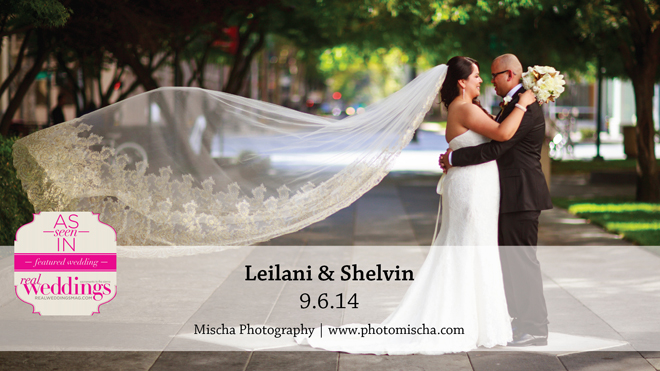 Leilani and Shelvin both attended UC Davis, but it wasn't until years later that their paths officially crossed. They recognized each other while ordering coffee at a nearby Starbucks and wound up sipping their cups of Joe and chatting for hours. Just two years later, while on vacation in Tahoe, Shelvin surprised Leilani with a private beach dinner and a proposal.
The couple decided to really enjoy their engagement and not rush into the planning phase. When the time did come, their first step was hiring a wedding planner who did a lot of the legwork and helped keep the entire process organized and stress-free. While their planner did a lot of the work, Leilani really enjoyed being involved in the details like flowers, linen and décor. Their main vision was to have a fun celebration where friends and family could come together and have a really good time. "We wanted our guests to experience new food, new music and new traditions," Leilani says.
On the day of the wedding, both Leilani and Shelvin felt a general sense of calm. They started their day with coffee, as they do every day and did the day they met. They then went on to join their respective wedding parties and get ready for the big day. When they arrived at the cathedral for the ceremony, some nerves set it, but they quickly settled once they were at the altar together. Though the room was filled with loved ones from all over, Leilani says: "At that moment in time, it felt like it was just the two of us in the cathedral." It helped having their three yorkies (Lily, Max and Rambo) there as well.
Both the ceremony and reception were a fusion of their Indian and Mexican heritages. A mariachi band provided music during the traditional Catholic ceremony and guests were treated to traditional Indian dances during the reception. For the reception, Leilani wore a bridal lehenga as a way to honor Shelvin's culture. The incorporation of so many traditions and cultures made for a beautiful and unique wedding, just as they had envisioned.
Leilani and Shelvin escaped to Fiji for their honeymoon, where they too got to experience new food, culture and traditions.
—Kelley Saia