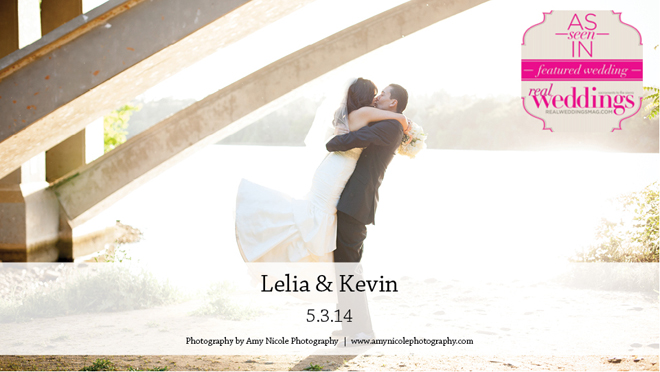 Folding a thousand cranes is a Japanese wedding tradition, and Lia and Kevin followed this custom, displaying the origami cranes at their ceremony and reception for luck, love and happiness. "He's half Chinese [and] I'm Korean, but I happen to be adopted by a Caucasian family," Lia says. "With each of us coming from a mixed background, we tried to incorporate our cultures."
Six years before, they met at a Sacramento nightclub where they had arrived with different groups. Things began to get serious within the first few months. Kevin traveled often for work, going to Seattle, Portland, Alaska, Boston and China, and he took Lia along with him whenever he could.
Their relationship gradually and steadily deepened, and after five years they began looking at rings. Kevin proposed on Valentine's Day. "I told her how much I love her, how much she means to me and how much our life together is filled with happiness," Kevin says. "I couldn't imagine not going forward with her for the rest of my life."
Lia moved naturally into the planning of the wedding. When they saw Lake Natoma Inn they knew that it was the place—perfect for family to stay, for the outside ceremony, and for the reception. The preparations felt intuitive for Lia, not at all difficult. "It was something I wanted to do for us, because it was fun," she says.
The most emotional moment of the day, for both, was the first look. Kevin awaited Lia in the rear courtyard at the inn. "When Amy Nicole (the photographer) brought me outside, my emotions…I can't even talk about it without tearing up," Lia says. A window overlooking the garden allowed the wedding party and guests to see the first look, but the couple only saw each other. "I knew [she was] going to be beautiful, that wasn't a question in my mind," Kevin says. "At that point I just wanted to see her, not really to see how she looked, just to know that she's there."
The whole event took about five hours, but Lia said she wished it had been 10.
"Certain moments just fly by," Kevin says. "So enjoy the little moments of the day and don't get caught up with other things that might have gone wrong."
Most fundamental, however, is to relax and not stress too much. "Sometimes you have to stand back," Lia says, "and realize the reason why you're getting married and what's important to you."
―Margaret Snider