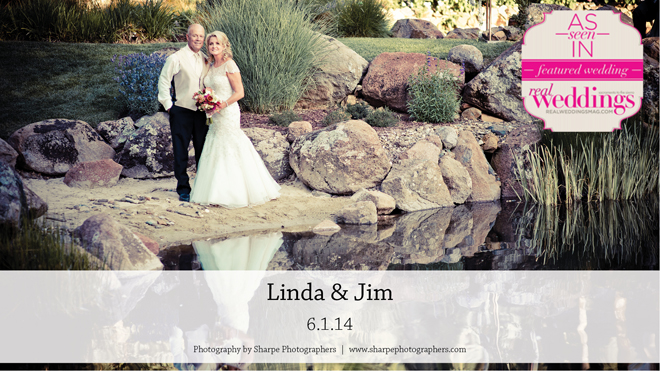 When compared to their second and third dates, Linda and Jim's first meeting was—quite literally—a walk in the park. After taking his dogs for a casual stroll, the couple kicked things up a notch when they embarked on a grueling hike near Donner Lake, followed by a picnic lunch. Their next get-together was for a home-cooked meal at Jim's place, but nerves got the better of him and he cut his hand while prepping an avocado for a salad.
"Jim says he fell in love with me the first time he made dinner for me, as I was sitting at the kitchen counter and looked up and smiled at him," Linda shares. "That's what did it." According to Linda, they were both "cautious" and didn't want to rush into anything, but from the start, their chemistry was hard to deny.
After dating for more than a year, Jim decided to pop the question before taking Linda out for a romantic pre-Valentine's Day dinner, but struggled to find a distraction-free opportunity. "My daughter was at the house the whole day doing some office work for me and her husband had been [there] off and on for several days doing some yard work," Linda explains. "I didn't know Jim had been trying to find the right time to propose." With her children finally out of the house, the couple rushed to get dressed and Jim seized his first private moment of the day. "I really want you to wear this to dinner tonight," he said, presenting Linda with an engagement ring.
Thanks in large part to Lora Ward of A Day to Remember Wedding Consultants, the bride and groom were able to pull off a two-day celebration bursting with "simple elegance" and heartfelt touches in just three months. From custom cocktail napkins (decorated to reflect the couple's shared love of triathlons) and pet-themed dinner tables to authentic Guamanian and Italian cuisine expertly prepared by Jackson Catering and Events, every detail was the result of careful consideration.
In late spring, the couple hosted family members at their Auburn home for a casual, catered meal, which Linda says "allowed [everyone] to come together and visit without all the stress and time constraints of a wedding." The following day, the group reunited to watch Linda's son and daughter walk her down the aisle and exchange vows in a short and sincere ceremony the couple co-wrote with the help of their friend and officiant, Dave.
"We…adapted and included a 'wine ceremony' that highlights that the joys of life (white wine) and the sorrows (red wine) are easier to bear because of sharing them with your spouse, and that both the good and bad are intertwined throughout the marriage," the bride remembers.
"We had so many people tell us how moving [it] was."
—Morgan Cásarez