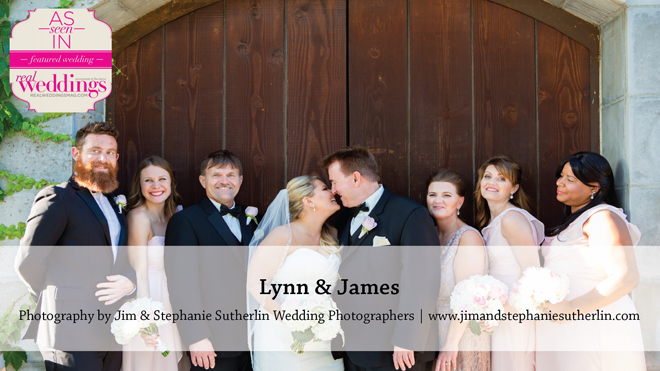 Nearly four years ago, two full-grown adults were forced to move desks because they were flirting too much at work.
Lynn and Jim met while working at a local credit union—their desks originally faced one another before they got in trouble and Jim's desk was moved. But that didn't stop them, as they moved their long conversations to happy hours and soon started dating.
"Lynn is quite a bit younger than I am, so I figured there wouldn't be any romantic leanings and that we would just be good friends. Over the course of three months of spending time together, we became more than friends and an extraordinary romance blossomed," Jim explains.
On Valentine's Day, he took her out to a local restaurant and proposed, but without a ring. He wanted her to be able to pick out exactly what she wanted—something Lynn loves (almost) as much as she loves him.
For their wedding ceremony, the bride and groom shared not only traditional vows, but also their own personal retelling of their love story in front of friends and family before being pronounced husband and wife.
Guests were then whisked away for cocktail hour while the ceremony site was transformed for the reception, which (despite Jim's initial trepidation) included an incredibly popular photo booth. "Jim teased me when I suggested it and asked if I also wanted to rent some clowns and a little clown car," Lynn remembers. "He thought it was too informal for a wedding, but it ended up being the hit of the party. Everyone took turns putting on funny hats and making faces at the camera."
As opposed to a traditional "sign-here" guestbook, they had guests put their photo booth shots (crazy props and all) next to their congratulations. Another highlight of the evening was their swoon-worthy cake by Something Sweet Bakery, in delicate blush and soft ivory petals with a whimsical "As You Wish" topper—a nod to The Princess Bride, a film Lynn watched many times growing up.
With the wedding day over, the newlyweds are looking forward to the rest of their own fairy tale romance and, as Lynn puts it, "a lifetime of adventures with my best friend."
—Jennifer Resnicke