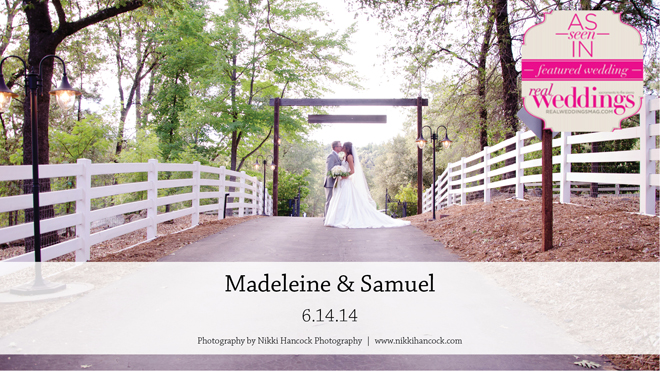 They say your spouse should be one of your best friends, so for Maddy and Sam—who were best friends from the beginning—it's safe to say that they picked a good match. Although, according to Sam, "I knew Maddy was the woman I would marry fairly quickly," despite being in the "friend zone" for some time.
Sam proposed on the shore of Lake Tahoe while out for a romantic walk with Maddy. He had hacked into Maddy's Pinterest account, stealing some of her top ring pins and taking them to Randolph's Jewelers in Placerville for inspiration for a custom ring. Right after saying, "Yes!" Maddy told Sam that the ring was exactly what she wanted. Needless to say, he came clean on his fanciful detective work.
Although the couple already had a venue in mind, through a mutual friend they found Donna Mullen who was hoping to start hosting weddings at her home. At their first tour of Still Meadow Manor, they immediately fell in love, and booked the intimate venue. Maddy recalls, "Every time we came over to look at something or chat about the details, Donna had a bottle of wine from her private cellar and an amazing appetizer spread. We miss those days!" The venue lent itself beautifully to the Midsummer Night's Dream inspiration that Maddy and Sam envisioned. Candles, chandeliers, a vintage lounge and a cigar bar were among the details that brought this idea together.
Maddy and Sam were thrilled to incorporate so many friends and family into the wedding. The officiant was Sam's best friend's sister, Sara Jaurequi, and Maddy's entrance song was played and sung by Sara's dad. Maddy, along with her mom, mother-in-law and three sisters all met at Flowers on Main where they were taught how to make bouquets and arrangements—together, they created 90 different arrangements for the wedding.
On the morning of her wedding, Maddy made time to fit in a hot yoga class and followed the grueling workout with a manicure. "It was really nice having the whole morning to myself to get centered and to soak in the fact that my wedding day had actually arrived," Maddy says. She returned home to find a single, heart-shaped rose accompanied by a sweet note from her soon-to-be-husband.
All of the details came together so beautifully and, despite incredible nerves, they both shared the vows they had written themselves. Maddy says the day was a blur, but reciting her vows, dancing with her dad and enjoying a huge celebration were moments that stand out for her.
—Kelley Saia