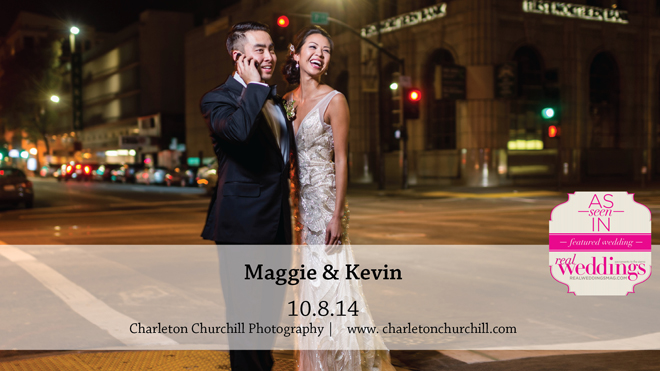 Maggie and Kevin (whose nickname is Odie) first met when they were 12 years old—they even went to middle and high school together as well as college. But they didn't get together as a couple until a mutual friend invited Maggie to join Odie and his friends to hang out and try new restaurants. Then they dated for nearly two years before Odie proposed during Maggie's family's Secret Santa exchange on Christmas in 2013.
The gift was "a digital frame that played out the timeline of our relationship," says Maggie, who had been expecting a puppy, not an engagement ring. The last two photos? One showed Odie drawing "Will you marry me?" in the sand on their Hawaiian vacation, and the other image was of the ring Odie chose for his bride.
The couple married the following autumn in front of 280 guests at the Sacramento Grand Ballroom, in a dusk ceremony officiated by Odie's aunt. Maggie's mother and father walked her down the aisle, "since they're both equally responsible for being the woman I am today, and Odie respects them both equally," she says.
Maggie, a dental hygienist and Odie, founder and CEO of a mortgage and real estate brokerage firm, wrote their own vows. Odie's vows were "memorable, funny and very touching," says Maggie. "He spoke to me was as if we were the only ones in the room—it was very natural." Odie loved the ceremony, which he says was filled with "laughter, happiness and love…from beginning to end, I thought it exemplified our personalities and love for each other."
The couple honored family at the wedding by displaying generational wedding photos along the entrance. "All the marriages on both sides have lasted through the years, so Odie and I hope to carry on this tradition," Maggie says.
Odie, a Japanese-American celebrated his heritage with 1,001 folded cranes for good luck, which were fashioned into a three-tier chandelier at the venue. Maggie honored her Chinese heritage by marrying on November 8, since eight is the luckiest number in Chinese culture. "Odie and I have grown quite superstitious of that number more so now," she says, explaining that they gave their guests "Lucky 8's" lotto scratchers as favors.
Since music is important to Odie, he made the entire playlist for the ceremony and the reception. Even the groom's music history made the party: One of the rap songs he wrote years ago was used as the couple's grand entrance into the reception. The groom's favorite wedding detail was the custom monogram logo his friend created. "I thought it looked awesome projected on the back wall of the venue during our reception," he says.
After a seven-day honeymoon to Costa Rica, the couple settled into their home in the same neighborhood where they both grew up.
—Kristen Castillo