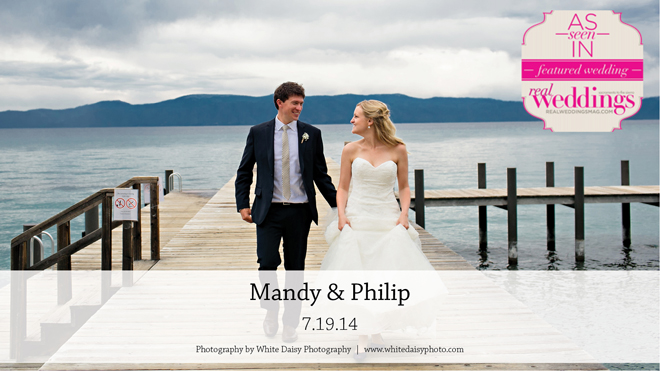 Mandy and Phil weren't high school sweethearts, exactly, but their paths continued to cross until they found their way to each other. Yet, as the saying goes, "If you love something, set it free." After each pursuing their own interests on different sides of the globe, the old adage came to fruition. Following an adventurous hike at Lake Michigan, Phil asked for Mandy's hand in marriage in the summer of 2013.
The couple had a very hands-on approach to the organization of their wedding. "We would have regular 'craft days' at our house where friends would come over and help us cut wood for signs, paint pinecones and glass for centerpieces, and stencil name cards," Mandy says. From tying ribbon around each letter-pressed invitation by hand to creating the playlist, every element was personalized.
Choosing a summertime wedding at Sugar Pine Point State Park helped make the wedding Mandy and Phil dreamed of—a relaxed and intimate affair that reflected their adventurous lifestyle and love of nature—come to life. Mandy explains, "Having a food truck caterer and homemade desserts went a long way in making everyone feel comfortable and relaxed."
The sentiment carried over into every aspect of their wedding. Mandy made only one request of her bridal party—that their dresses be navy blue—leaving the length and style completely up to each member of the party. "I wanted them to feel comfortable and look like themselves," she says. When it came to photographs, which were captured by Aimee Fredy of White Daisy Photography, the bride says: "There were certain photos I really wanted—like a picture of all six of my siblings and all four of my parents—but mostly I wanted to just capture real moments of joy."
Mandy feels that staying true to yourself as you plan your wedding is paramount to creating memories that last a lifetime.
"It's the most incredible day—you are committing your life to someone and have all of the most important people there to support you—and it's incredibly important to feel like yourself on that day so that you can enjoy it," remembers the bride.
As to which memory she thinks will stay with her the longest, Mandy says the father-daughter dance came as an unexpected moment of magic. "We danced to 'Mandy' by Barry Manilow, a song that [my dad's] been singing to me my whole life. We danced and twirled and laughed and did the polka at the end. I'll remember that dance forever."
— Abigail Blank