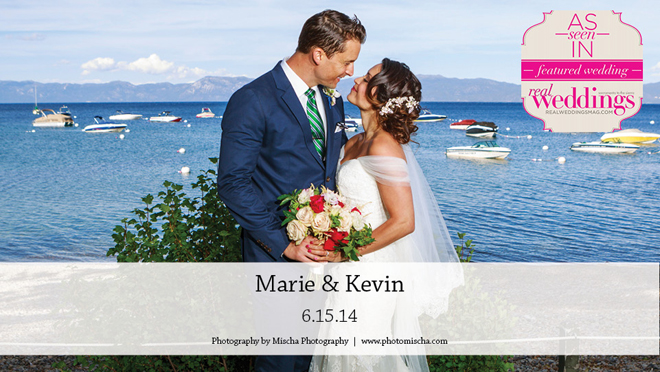 All's fair in love and real estate—at least for Marie and Kevin who met at his commercial real estate office. Marie, who sells related information, dropped in to let him know she was his account rep. "He proceeded to ask me 20 questions, including where I saw myself in the next five years," she remembers. "After I left, he asked me if I was seeing anyone via email. I was at the time, but after meeting him, I quickly called it off and let Kevin know I was single. The rest is history."
The day they got engaged, Marie says that Kevin was so excited about getting the ring that he rushed over to her house. "He gave me some lame excuse about putting up a new medicine cabinet," she remembers. "Little did I know his plan was to have me find the ring dangling from the drill." After many attempts by Kevin to get Marie to hand over the drill, she finally relented and found a beautiful ring and Kevin, down on bended knee.
When planning the wedding, the bride-to-be hoped for more than a party: She wanted an experience.
""I wanted every guest to feel like they were surrounded by beauty and love…that they were experiencing something very special," the bride remembers.
This meant exchanging vows under a beautiful blue sky.
That beautiful blue sky took them to Lake Tahoe, where they wed in an intimate ceremony on the waterfront. Their officiant—brother-in-law Tim—blended traditional readings and personal stories for just the right balance. "We also had our parents join in by doing the Filipino lasso ceremony," shares Marie. "It's similar to a unity candle, but instead you take white rope and tie it into a circle, then both sets of parents put the lasso around the couple—in the form of an infinite circle or figure 8—so the bride and groom are both standing in the smaller circles made from one large circle." This proved much more meaningful to the couple, as Marie's parents enjoyed the same tradition in the Philippines 42 years prior.
Guests moved on to the deck of the West Shore Café for dinner, dancing and activities. The couple surprised their party with a family-style meal overlooking the beauty of Lake Tahoe. "It was stunning with the views, the old vintage bulbs and the fire pit at the end of the dock," says Marie. "It made for a very romantic setting but [was] still casual enough [that] people could let their hair down."
The couple enjoyed heartfelt and thoughtful speeches, including ones from Marie's dad and a tearjerker from her twin sister. "To have them both there with total support is all anyone could ever want," says the bride. "Kevin's best man also gave one of the most amazing speeches I've witnessed. It was definitely a memorable moment for my husband."
The bride and groom shared another favorite moment when it came time to perform their first dance. "Kevin is not a dancer at all—[in fact] he relishes in being a terrible dancer," Marie says. So she begged him to take a lesson, and they nailed it. "There were dips, twists and a couple lifts to Jason Mraz's 'I Won't Give Up.' Needless to say, the girls all screamed with joy while his buddies looked on with wonderment."
— Darren Elms