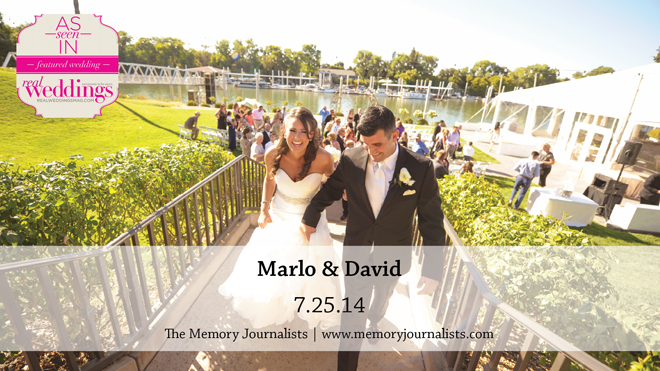 Marlo's family likes to joke that when she decides she wants something, she gets it. Luckily for David, Marlo had decided fairly early on that she wanted to get to know that good looking police officer.
"I was new to the department as a dispatcher. I had seen David at work a few times and couldn't help but notice how handsome he was. After a few months, I decided we were going to date—even though I hadn't even spoken a word to him," Marlo says. She finally worked up the courage to approach him, and their course to wedded bliss was set. After the two went ring shopping together, Marlo knew a proposal was on the way.
David remembers how he took her out to a nice dinner and "caught her brushing against my pockets, trying to be sneaky, to see if I had a ring." But that wasn't the night he proposed. He planned to take Marlo up to the family cabin near Lake Tahoe for a romantic getaway, but about 100 yards before they reached the cabin the truck got stuck in the snow. David sent Marlo ahead as he tried to get the truck out. After about an hour of fighting the elements and the car, Marlo called out to say something else was wrong. A pipe had burst. "It was like a sprinkler was shooting water out of the electrical outlets," David says.
As David describes, Marlo was "adamant" they stay ("I was so adamant about staying because I was really hoping that he was going to propose, and if that was the case I was not going to let anything come in the way of that," she adds.) He wrote her a romantic letter and left it on the counter for her to find. She read it with her back to him, and as she turned to thank him, she saw David on one knee.
When the wedding day arrived, the couple stood along the riverfront in front of 85 of their closest friends and family. David's daughters McKenzie and Riley (who were 7 and 4 at the time) took part in the ceremony, too, as they said vows to each other as a family. The reception was the epitome of classic elegance—the space swathed in romantic neutrals with delicate crystal chandeliers lending a soft glow as the ceremony faded and the party bloomed. One of David's favorite memories of the night was when his brother grabbed the mic from the DJ and started rapping a song from their childhood, only to be joined by Marlo for an impromptu duet.
Looking back, they both agree that the "first look" before the ceremony was a great choice. As David remembers, "She looked so beautiful, and I was overcome with emotions realizing she was about to become my wife."
In the end, Marlo's family may have been joking about her always getting what she wants, but they were also right—and this time it led to a fantastic love story and the forging of a new family.
―Jennifer Resnicke