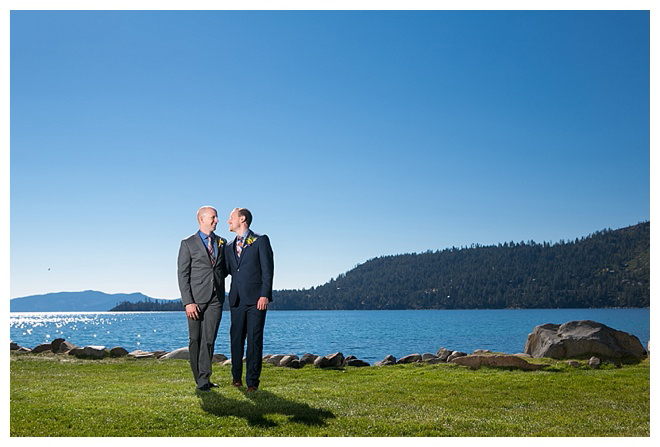 It was a slow, steady road to true love for Matthew and Kyle. They met in graduate school for physical therapy in Philadelphia, spending time studying together and hanging out with classmates on the weekends. During their second year of graduate school, a spring break trip to San Francisco solidified the romance. "It was love at first sight, but Matt played hard to get and needed some convincing," Kyle recalls.
Though they had talked about getting married frequently, they were unsure when they would be able to legally wed. "We always said that we would wait to get married until it was legal in California, and at the time, California was still awaiting the ruling of Prop 8," Matt says.
Kyle proposed on a very rainy Christmas Day in 2012 during a surprise hike at Bernal Hill, a place that has special meaning for the couple. Matt said yes, of course, and by the following summer, California was once again added to the list of states that allowed same-sex marriage.
They began planning soon after the holiday season ended and decided that the following fall would be the perfect setting. "The next step was choosing a venue. It was the hardest step of all," Matt says. It was a challenge to find something that had a very specific feel matching their love for the outdoors—not to mention, the reality of sticking to the budget!
Having made it through grad school together, the couple knew how to get through stressful situations calmly, so planning was pretty easy. Matt admits that he was a bit crazy at times and Kyle was more of a procrastinator, but by doing little bits over the long haul, it all came together beautifully.
The ceremony was held at Aspen Grove in Incline Village, Lake Tahoe. Strings of lights hung from skyscraper-tall Aspen trees, and a stream in the distance provided the perfect soundtrack for the quietest moments; picnic tables were formally set with tablecloths, runners and gorgeous glassware; and the combination of the trees, crisp Lake Tahoe breeze and late day sun turning to twilight made for the perfect ambience for dancing the night away.
The couple skipped having a formal wedding party, and instead incorporated their families and closest friends into the event itself through toasts and readings.
"We wanted all of our guests to feel like guests, including family," Matt says. "We wanted to make everyone enjoy the day. We put a lot of ourselves into the planning to put our own personal stamp on the day, and we feel like we accomplished that."
One of Matt's favorite memories took place just after the ceremony where they walked out together as a married couple and shared a quiet moment before the start of the reception. "Being around Kyle makes me a better, happier and calmer person," he says. "And I couldn't imagine spending the rest of my life without him."
—Kourtney Jason