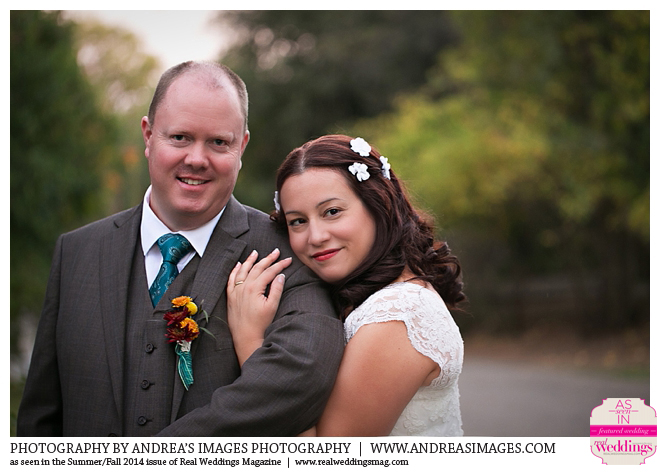 Brent met his future bride at his cousin's wedding where Megan was a bridesmaid. They started chatting and, over time, love grew. During a camping trip to Lake Tahoe, Brent proposed. To celebrate, Megan carved their initials in a tree stump to mark the spot.
Engaged for 15 months, the couple used the time to find the right venue—a place that was relaxed with indoor and outdoor beauty—and ultimately the perfect place for them: The Flower Farm in Loomis. The decision was based on the locale's "rustic beauty, a good balance of having its own personality," and its potential as a "blank canvas that I could see my vision for the wedding coming to life," Megan says.
The bride's floor-length A-line dress with lace cap sleeves, a sweetheart neckline and a lace empire waist bodice was purchased from Sparkle Bridal Couture and customized by Carole Kenney Design. Brent, who wore a three piece, dark brown Ralph Lauren suit with a teal paisley tie, got emotional seeing his bride for the first time. "Megan was so beautiful—it was a true magic moment for me just looking at her and taking in all of her and how wonderful she looked. A moment I will never forget!"
"We had so much help from friends and family and even though it was a ton of work, it meant so much to [have] everyone be a part of the process," says Megan. 
The groom's uncle officiated the outdoor ceremony in front of 75 guests under a great oak tree. The bride and groom each had a few attendants: Megan's two sisters were maids of honor and Brent's two brothers were best men. "Having all of our siblings involved was a must," says Brent. "We didn't want to leave them out and as a result we got double the amount of wedding speeches and toasts!"
Megan, a graphic designer, created all of the wedding signage and paperie including the invitations which had a record theme since Brent, a therapist, is also a DJ. "Our shared love of music is what brought us together," says Megan, who was inspired by the décor of traditional Indian weddings and chose colors like turquoise (her favorite), fuchsia, orange, red and gold.
The menu from caterer All Seasons All Reasons was a mix of delicious food for the guests, along with the bride (a vegetarian) and the groom (a meat eater). Many of the guests raved about the mac and cheese, and beef tenderloins. The couple also served their guests a variety of cupcakes—Brent loved the "honey bee" flavor and Megan's favorite was peanut butter and jelly.
They converted the reception hall's small bridal room into a mini photo studio. Professional photographers snapped the pictures, which guests loved—even posing with props like the groom's orange English cap, which he accidentally left on the props' hook. "Everyone thought it was a prop and wore it in the pictures!" he says.
Wedding planning was tense but Megan appreciated the support she got. "We had so much help from friends and family and even though it was a ton of work, it meant so much to [have] everyone be a part of the process," she says.
— Kristen Castillo