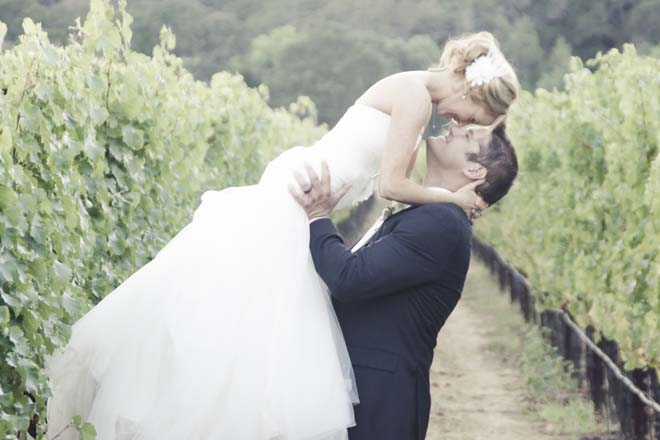 It was love at second sight for Megan and Mark, who met in 2006 through a mutual friend. "We didn't see each other or hang out until we saw each other again about six months later," Megan says. They hit it off the second time around, and have been together ever since.
Mark proposed in March 2012, giving Megan the exact proposal she always wanted. "I told Mark when we first started dating that I wanted to be proposed to with the Kenny Chesney song 'Don't Happen Twice' [playing]. Of course, Mark had done it all, and had the song timed to a T when I walked out [of our house]. He had a lot of amazing things to say, [but] I hardly remember; I was in shock," she says.
Once they were engaged, the planning started right away. "We contacted our site and with five months to spare, we were game on!" Megan recalls. "I wanted a romantic, vintage farm feel…something inviting and comfortable, yet classic and so us."
The ceremony and reception was held at the Blue Victorian Winery in Suisun Valley, where the surrounding hills and vineyards provide a rustic charm. "The grounds are to die for," she says, "and the staff was truly amazing. Anything and everything we wanted, they were able to do."
Megan planned for her day to also be a time to celebrate her and Mark's close friends and family.
"My vision was just a fun time for everyone we love," she shares. "We really hold family and friends so highly. I wanted it to be a day where our kids could remember it."
And Mark, the doting husband, wanted to give his bride exactly what she wanted. "For me, I wanted only for Megan to have her perfect wedding," he says. "My only requests were that I got to pick some of the music and make the beer selection. I knew that Megan had a vision and amazing taste; I knew that she would be able to articulate her ideas very well. I never worried about the outcome, and ultimately my hunch turned out to be correct. She planned an amazing and unforgettable event."
With just a five-month engagement, stress levels remained low throughout the planning stages and even on the big day. "I was really relaxed through all of it. I had feelings that I might have one freak out moment, but it never happened. It was simply perfect," she remembers.
To sum up the day, Megan called it "amazing-fabulous." "I'm sure people hear all of the time how folks compliment and say it was the 'best wedding ever,' but it truly was," she says. "There was so much love, so many hugs and kisses, and the most amazing people in one room. To look out and see everyone smiling, laughing, singing and enjoying the night is something we will never forget!"