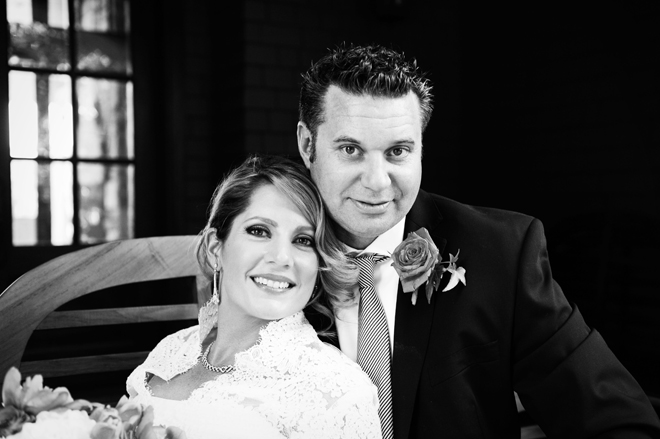 Megan, a registered nurse and Paul, an insurance salesman, met on a blind date in January 2011, when they double dated with the bride's cousin whose husband works with Paul.
Fast-forward to April 2012 when Paul proposed during a trip to The Ritz-Carlton in Half Moon Bay. "He planned a horseback riding trip on the coast with a spectacular view and Champagne where he proposed," Megan explains, calling the experience "very romantic."
Since the couple didn't want a long engagement, they decided to marry at the home of Megan's father and stepmother, which is located along the Sacramento River. "Given that we only had six weeks to plan, the biggest challenge in wedding planning was making decisions fast and staying focused on what was important," Megan says.
The couple celebrated with 140 guests, many of whom traveled from the Midwest and southern California. Megan calls the wedding style "vintage garden chic." The four-person wedding party, including the bride's sister and the groom's brother, wore black, which helped the color scheme of fuchsia and green to really pop.
The bride wore a white Lazaro dress, which was accented by a lace jacket and a black sash. She accessorized with a 12-carat total weight diamond and platinum necklace, as well as her mother's diamond and platinum earrings. Megan's engagement ring, a 1.5-carat radiant cut certified fancy yellow diamond, doubled as her wedding ring. The groom's ring was white gold; he wore a black Calvin Klein suit, a black-and-white checked tie, black-and-white checkered socks and black-and-white Doc Martin shoes.
The evening ceremony was officiated by Jonathon Chapin, a longtime friend of Paul's, who later in the night served as DJ. "The ceremony was brief; no readings, no fillers," Megan says, who walked down the aisle with her father to Tom Petty's "Here Comes My Girl."
How's this for family tradition? They held a "Drunk Uncle" contest, a tradition that started 15 years ago at Megan's cousin's wedding. "My Uncle Dave always wins," she says. "He's hysterical."
For dessert, they chose a three-tiered red velvet cake from Divine Desserts by Aguirre, which was decorated with fuchsia roses and greenery. Female guests received flip-flops to wear on the dance floor, as well as a personal CD favor. Shoop's Photography captured the day, including photos at Megan's parent's home, such as the boat dock.
The bride's favorite wedding memories? Walking down the aisle with her father: "I am very close to my dad and it was a very special moment." She also loved her father-in-law's "surprising speech," which she says was "eloquent, sweet and personal." As for Paul? "Marrying Megan was my favorite memory," he says. "When I met Megan and began dating her, I knew I had won the lottery, like the Super Lotto and The Mega in the same week. But, the wedding was like receiving and cashing the check. I had locked it in!"
Megan and Paul honeymooned on Maui and now split their time between Fair Oaks and Reno.