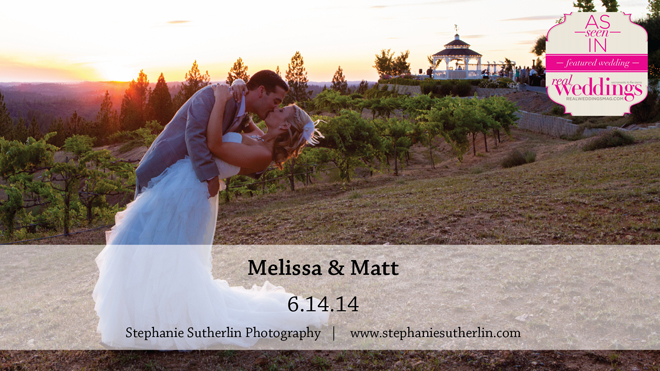 Melissa said jokingly to her friend that Matt would have to cut his long hair and drive a truck for her to go out with him. When he actually did those things, she was impressed. How could she say no to a guy who had to lose his locks and get a new ride just to get a date—and who has the most adorable daughter (Madison) in the world? She couldn't. That's why, when Matt asked Melissa to marry him during a trip to Costa Rica for her 29th birthday, she said yes.
When Melissa, a teacher, and Matt, a project manager, decided to tie the knot, the pair wanted something that would reflect their easygoing nature and creative side. Choosing to go with cool aqua, classy grey and casual burlap, they set out to create a relaxed country-inspired wedding. Melissa considered herself to be a carefree bride. "I knew I wanted some things, but I would never stress over them," she says.
Don't let the nonchalance fool you though—she took care of all the details down to a tee. From crafting burlap bouquets and centerpieces with mason jars, manzanita branches, pearls and jewels, to making chalkboard signs and banners, this bride did it all—pulling off the perfect country-chic wedding. Not to be outdone, Matt built a cornhole set, a directional sign and a giant Jenga set with their initials branded on it. "We wanted a relaxed, country-loving, boot-wearing, cornhole-playing, beer-drinking, wine-sipping good time, and we did!" Melissa says.
The ambience had to be stunning in order to pull off the wedding of their dreams, and it was. Rome Valley Vineyards treated the couple and their guests to rolling hills and endless skies that panned out beneath them. "I just wanted the day to go as smoothly as possible and for people to remember feeling relaxed, while watching the sun go down on an amazing view," Matt says.
Walking into the reception as the new Mr. and Mrs. with all of their wedding party dancing to "Party People" by Florida Georgia Line was Melissa's favorite moment from the wedding. Matt's favorite—as is often the case with many besotted grooms—was seeing his bride walking down the aisle.
Serendipity brought them together, and love keeps them going. Like Melissa says, "It is a love that in today's world is rare and hard to find—someone you actually like to be around…We accept each other, enjoy each other, and actually want to be with each other."
―Tara Mendanha