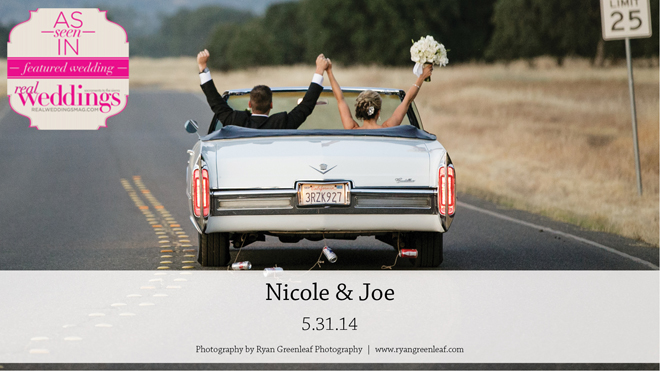 A gathering of the California Association of Pest Control Advisers hardly seems romantic until you consider that every other year it's held at the "Happiest Place on Earth." In October 2010, Joe and Nicole networked their way to true love after crossing paths at a CAPCA conference in Disneyland, and within six months, Nicole realized she had found her prince charming.
"He said to me, 'You have a brick wall up around you and I will be the one to take that wall down one brick at a time,'" she recalls. "I was really touched that he was willing to be patient with me and stick with me."
Following a two-and-a-half year courtship, Joe began planning the perfect proposal in February 2013 when he purchased a stunning Tiffany & Co. Soleste yellow diamond sparkler. The following month (in a dramatic reversal of his anti-cat stance), he adopted a kitten and had its tag engraved to read "Will you marry me?" With ring and delivery method in hand, he sought the blessing of Nicole's father on a rainy Tuesday. "I didn't want her or her family to know when or where, so it had to be totally random and spontaneous," Joe explains. "In this entire process, I wanted the least amount of people involved to reduce the chances of her finding out my plan."
Having secured the approval of his future father-in-law, Joe rushed home to set the stage for a romantic, completely unexpected proposal before Nicole returned from Pilates. "I think I dropped the cat at some point, said yes and grabbed my fiancé in a huge hug after he put the ring on my finger," Nicole shares. "At about 11 p.m. we realized we hadn't eaten dinner so we took off for the Taco Bell drive thru. It was a perfect proposal!"
The couple knew they wanted an outdoor, springtime ceremony, but the rest of their big day proved difficult to pin down until they began working with Jodi Drysdale of Chico Event Specialists and Carey Galliani of The Idea Emporium. With help from the professionals, they set to work bringing the "classic, fun, badass" wedding of their dreams to life, 1966 Cadillac and all. The bride says that she was particularly impressed with her groom's involvement, which included the design of a "beautiful, one-of-a-kind" cake topper.
Nearly four years after their fairy tale beginning, Nicole met Joe at the altar in a 1933 Plymouth sedan delivery custom-built by her father for the wedding. Following a ceremony officiated by the bride's lifelong friend, the couple celebrated with guests and took time to connect with everyone as they handed out plates in the buffet line.
"Once the dancing started there wasn't one time the dance floor was empty or even half full," Nicole says. "That is what we wanted."
"We wanted our friends and family to look back at our wedding and say, 'That was the best wedding I have ever been to.'"
—Morgan Cásarez