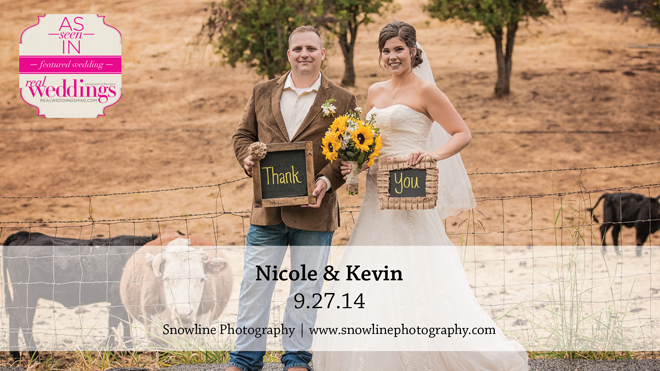 Nicole met Kevin while visiting her grandparents (Kevin's neighbors) when she was eight years old. Puppy love ensued, and the couple started dating when Nicole was 17. Throughout the years, they maintained their relationship—even through Kevin's service in the Marine Corps and serving in Iraq.
While vacationing in Bodega Bay, Kevin proposed on the beach among their friends and family. His clean shoes should have struck Nicole's suspicions, but he was still able to catch her off guard. When he dropped to one knee, she first said, "Are you serious?" followed by, "yes!"
The same week they got engaged, they bought a house in Placerville, so the planning was put on hold for a short time. When it was time to begin, things went well—thanks to the power of Pinterest, venue owner Deanna Fausel (of Fausel Ranch) and her daughter Lydia, and Nicole's strong vision for an outdoor country, rustic wedding. Nicole's cowboy boots became the inspiration for the day and eventually everything unfolded just as Nicole had dreamed.
Getting married outdoors in northern California, however, always comes with a certain risk for rain. Deanna Fausel somehow knew that it would rain during the ceremony and had a sign made that read, "Life isn't about waiting for the storm to pass, it's about learning to dance in the rain," and that's exactly what they did. Rain is probably not what Nicole expected when she chose sunflowers, but they were still so sweet and charming, and suited the vibe she was hoping for.
Dancing in the rain stands out as a great memory for Nicole, but seeing Kevin and feeling truly blessed to call him her husband tops the charts. And as a true daddy's girl, she will never forget the moment when her dad first got to see her in her wedding gown.
Nicole and Kevin were so glad they booked a traditional honeymoon in Maui—rather than something low-key and close to home—as they were able to really unwind and reflect on their amazing wedding.
It has been 18 years since they first met and nine years since they first started dating; they are thrilled to finally be happily married and expecting their first child.
―Kelley Saia