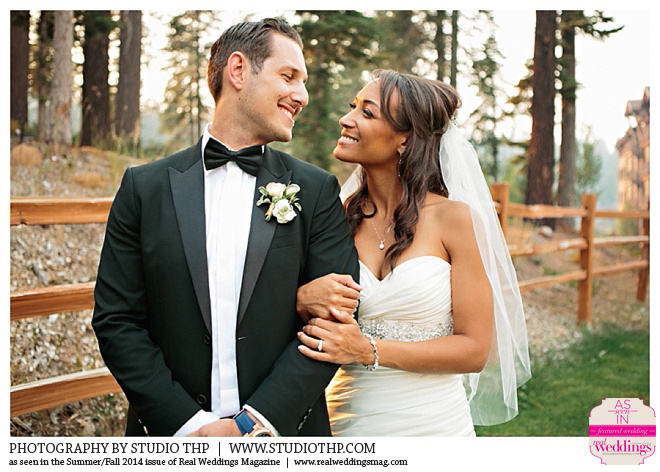 Olivia and Ethan met while working together at Yahoo! in winter 2009. Their first date was a casual lunch that turned into an eight-hour adventure filled with walks, wine, coffee and dessert.
"Our dating relationship was magical from the start," Olivia says. "I remember our first trip together. We went to New York during the holiday season. It was freezing, but our attention to each other kept us so warm. We would be walking down the streets of New York and stop just to kiss passionately." The trip was unforgettable as it was the first time that they said they loved each other. And not long after, they were back in New York City at the same spot where that love was first professed—only this time Ethan was on one knee, asking Olivia to marry him.
The wedding planning was mixed with both excitement and stress. They worked hard to get the big details figured out right away. "We had all our major decisions made. We picked our place, booked our photographer, videographer, florist, DJ, etc. We were so ahead in planning in the beginning that we felt that we could add more details to the wedding. We kept thinking, 'we won't be that couple [who's] overwhelmed at the end—we'll be on top of everything,'" Olivia remembers.
But as the wedding approached, all of the little details started to pile up—such as where they'd get ready, where the photo booth would go, what the right alcohol selection was, and so on. "Working on the wedding became a second job," Olivia recalls. "Luckily we're used to working together, so we're used to the dynamic of creating something together. We agreed early on that Ethan would plan the honeymoon, and help out with major decisions and finances, and I would be in charge of the details. It was nice to have the segmentation."
The couple also stayed organized through Google Docs, shared Pinterest boards and a joint email account to communicate with vendors. Olivia also made sure to put her own designer touch on many of the details. "I really enjoyed creating the save-the-dates, invitations, thank you notes for the tables, signage, cigar bar, welcome bags, etc. It was really the highlight for me because adding the details ourselves was the personal touch that everyone noticed on our big day."
Both the ceremony and reception were held at Northstar California Resort. "It was a perfect location for us because we wanted a place that created an intimate atmosphere and provided sort of a mini-vacation for our guests," Olivia says.
The couple included a few Jewish traditions into their ceremony, too, one of which has become Ethan's favorite memory. "I remember standing at the chuppah, waiting impatiently for my bride-to-be to walk down the aisle," he says. "Each second lasted an eternity. [Then] she turned up the stairs. I remember her smile, her eyes glistening." In Jewish tradition, the groom meets the bride halfway after being presented by her father, and the couple performs a few choreographed steps as they circle around each other three times each, and then together three times. "This tradition represents how Joshua circled the wall of Jericho three times, and then the walls fell down," Ethan explains. "So, too, after the bride walks around the groom three times, the walls between them will fall and their souls unite."
"It was my most memorable moment—our lives finally coming together as one," remembers the groom.
— Kourtney Jason