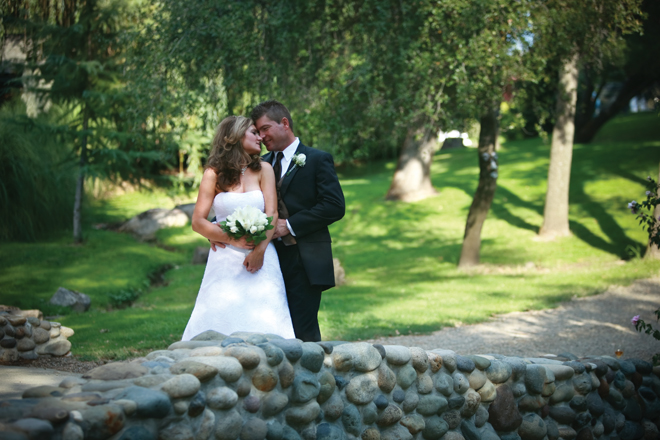 Location, location, location. When it comes to weddings, sometimes the location can say as much, if not more, about the couple than any other element. For Lisa Hess and Brian Keating, their location suited them right down to the ground (literally). The lush 10-acre property in Granite Bay contained a running creek, beautiful rustic restored barns, horses, and a quaint stone bridge…and the fact that this "wish list" property belonged to a friend made it that much easier for Lisa and Brian to turn their dream wedding into a real wedding! (Did we mention that the property is also adjacent to Folsom Lake? Nice!)
Making their wedding part of the "great outdoors" was important for the couple; Lisa being a veterinarian and Brian an environmental engineer, it was always going to be wide-open spaces or nothing. They're also both avid cyclists; to this day they still ride by the property regularly, which as Lisa says, "gives us a good tingling feeling every time we ride by." Nothing like sense memory to capture the moment!
Lisa and Brian wanted the wedding to be, in Lisa's words, "intimate, simple, and refreshing." With only three months to plan, it obviously helped that simplicity was one of their goals.
Many hands make light work, and where Lisa and Brian's friends and family were concerned, their hands were all over this beautiful occasion. Not only did their friends graciously offer up the property for the wedding, but a long-time friend of Brian's, a pastor from Utah, flew in especially to conduct the ceremony. The wedding party itself was a family affair; Lisa's sister was her maid of honor, and Brian's brother was the best man. Lisa's mom contributed the floral arrangements, including a beautiful flower ball that hung above the couple in the gazebo where they exchanged vows. As proof that you can take it with you, Lisa and Brian moved that gazebo into the backyard of their new home, where it remains to this day an important focal point of their backyard.
The property grounds were home to pomegranate trees, which made Lisa and Brian's theme colors an easy choice: pomegranate, paired with chocolate brown. It also made the signature drink practically required: why, pomegranate martinis, of course! Lisa and Brian also made the most of their outdoor heaven, stringing up 200 Chinese lanterns in the backyard for the reception that followed, which was full of good music, good food and plenty of dancing on the makeshift dance floor they laid out on the lawn, and guests even enjoyed a festive bonfire later in the evening. (Reports of hand holding and singing "Kumbaya" remain unsubstantiated.)
By way of a little back story, it's important to note that Lisa and Brian are a Match.com success story and were married within a year of their first meeting. (Brian proposed to Lisa on a cruise ship after a mere six months of dating.) Let's hear it for chemistry!
Our kismet couple honeymooned in St Thomas, and as if mere marriage weren't commitment enough, Lisa got certified for scuba diving so that she could share her husband's favorite pastime with him on their honeymoon. Now that's what we call love!
―Sharon Penny