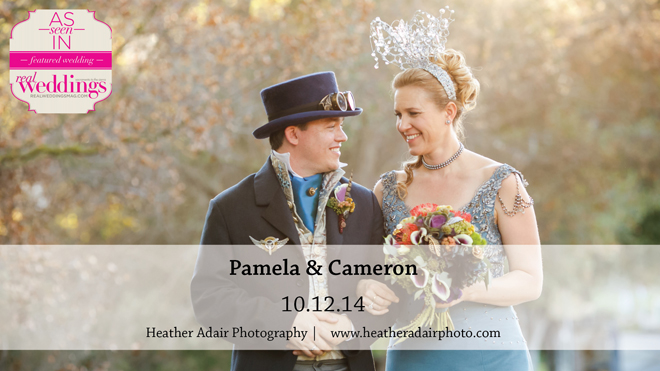 Pamela and Cameron have Facebook to thank for their reunion. The two met on the first day of high school. Their friendship lasted throughout college, yet soon after they lost touch and didn't speak for 16 years.
About five years ago, Cameron decided to study abroad in Korea and Japan. Before he left, he reached out to those who had meant a lot to him throughout his life, the first of which was Pamela. "It was quite a surprise to see a message from him," she says. "He was so sweet about it, uncertain about how his message would be received. We stayed in touch via Facebook for another year or so, when he decided to come back to the U.S. He was looking for work in Oregon and California and during that time, he asked if he could visit. When he walked around the corner on the first day of his visit, all I could think was, 'He is hotter than he was in high school!'"
Their connection was undeniable. Pamela said it felt like coming home. "I have known him so long, but at the same time I didn't," she says. "It felt like the stars were in alignment as we started dating, and then planning on moving in together. Nothing felt easier or more perfect."
Cameron can pinpoint the moment he knew Pamela was the one for him. It was during a date, while having a picnic at the beach. "At one point, I saw her take off giggling and running down the beach," he says. "It was obvious that through all the difficult times in her life, she has retained the 'joy of life.' That is truly such a rare thing to see."
Not long after, the couple was back to a beach near Pacifica, where Cameron planned to propose. As soon as they were engaged, they began figuring out what kind of wedding they wanted. The theme? Steampunk! "We had been having a good time with going to the Dickens Fair in November and the Edwardian Ball in January in San Francisco, and getting dressed up in period clothing," he says. "We thought it would be a blast getting all gussied up in steampunk attire!"
And since their theme was so visual, the couple encouraged guests to dress up as well. "Pamela had the great idea to ask people to come in costumes to help engage them," Cameron says. "I was more hesitant, but we put that out there in the invitation and people started calling us and our families up to find out how to make costumes for themselves. It was amazing to see how excited people got with wanting to get dressed up!"
Both Pamela and Cameron wanted the wedding to be a big fun fairy tale of a party. For Cameron, too much expectation would kill the spontaneity and relaxed atmosphere.
"People were calling out 'woo-hoo!'" he says. "The look of contentment and joy on peoples' faces was awesome. When Pamela came down the aisle, people grew a bit quieter and were just beaming joy, as I'm sure I was too."
—Kourtney Jason