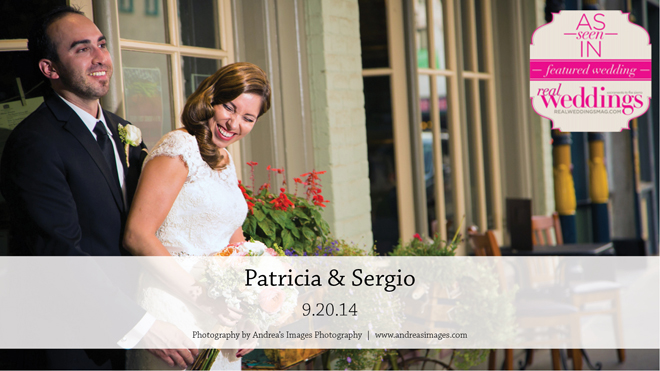 With such a deep sense of the importance of family, it's not hard to see why Patricia and Sergio were so blissfully happy to start one of their very own. The couple met at a costume party eight years ago, but "it was far from love at first sight," Patricia recalls. Sergio, however, felt quite the opposite on their first encounter, and he made it his mission to make her fall as head over heels as he had.
"I knew when I first met her that there was something about her I didn't want to lose," he says. And it worked. On one of their first dates, Sergio made a romantic dinner for Patricia and they listened to John Legend's CD the whole night.
Since then, the couple created a strong family unit—Sergio helped to raise Patricia's then 10-year-old daughter, only increasing their love for one another. Patricia considers herself blessed to have found "such a warm and open man whose heart has the capacity to not only love [her] unconditionally, but also love and respect [her] daughter as his own." The couple also treasures the mutual closeness to their respective families, as Sergio grew up within a five-block radius of all of his relatives, and Patricia holds the values of her parents and grandparents very dear to her heart.
Sergio proposed to Patricia at 3 a.m. under the stars and amongst the countryside. They had made it an annual tradition to roll out a blanket in Sergio's truck bed and watch the Perseid meteor showers. He asked Patricia what she'd do if a shooting star fell to Earth, and she said she'd make money off it! His answer was a little different: "I would ask you to marry me," and did just that.
The wedding was held at the Holy Rosary Catholic Church in Woodland—the same place Patricia's parents were married 47 years ago. A bilingual ceremony allowed them to celebrate their mutual heritage as second generation Mexican Americans. Patricia's most special moments were when her father became touchingly emotional as he handed her off to Sergio, and when Sergio passed on traditional wedding coins (arras de boda) during the ceremony that Patricia's mother had handed down to them, symbolizing commitment, confidence and trust.
The reception was industrial-chic, held at an abandoned air conditioning repair shop with exposed wooden beams and brick walls. With a lot of the decorations made by the couple and their family, it became even more personal and special. Their love of John Legend was even incorporated, as they had their first dance to his song "Stay with You." Everyone had a blast—even their 10-month-old nephew and 80-year-old uncle boogied all night—and Andrea's Images caught each unique moment as it happened. A beautiful blend of tradition, family and hope for the future were present—all alongside the love of one generation to the next.
―Adrianna Valencia