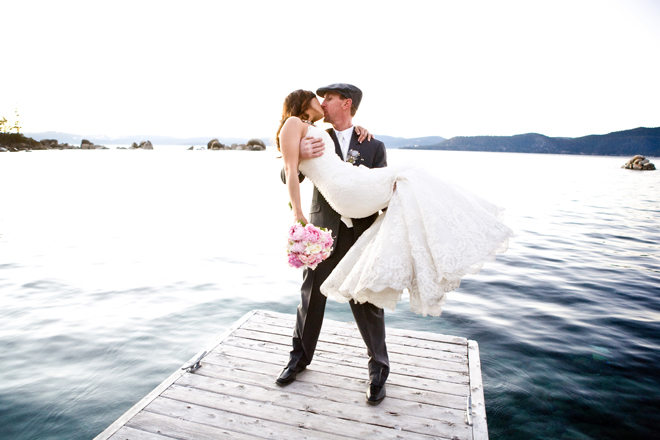 It's a cinematic cliché most of us only dream about—wedding guest meets and falls for bridesmaid—but for Pilar and Tim, it's enviably true. In fact, their narrative begins where so many others stall: on the dance floor. That's where Tim first spotted Pilar trying to politely elude one of his pals. "As the song ended, I walked past Tim," the maid-turned-missus remembers. "He made a remark about how I left his friend. I was a little taken aback, but before I knew it, he had smooth-talked his way into asking me to dance." He also locked her into conversation for the rest of the night.
Turns out, Tim has a talent for engaging others, proposing to Pilar at Sand Harbor in Lake Tahoe in May 2011. Making this scene even more romantic are Tim's heroics, which involve running down the ring the morning he was to pop the question after FedEx failed to deliver it on time. Once settled in Tahoe—bling procured and dog Happy in tow—Pilar sat down on a boulder, and Tim dropped too, straight to one knee.
Soon after they picked a date (December 17, 2011…"We can't forget it," Pilar says, "and if we do it's engraved on our rings!"), the couple nailed down the venues and ironed out the details of their winter wedding. As Tim is an avid snowboarder, snowcapped nuptials made promising sense. Only, when their day arrived, it was sunny—beautifully so, but blazing nonetheless. However, nothing would dampen the couple's vintage-inspired big day, its confluence of influences reflecting Pilar's love of "all things natural, organic, do-it-yourself and easy." Add to this list classic, traditional and shabby chic.
Personalizing details not only for themselves, but also their families—Tim's tribe comes from Ireland, Pilar's hails from Laos—the duo riffed on tradition to include vintage Coca-Cola crates; soda and beer bottles in galvanized bins; a long U-shaped table connecting all guests; burlap table runners; peonies, roses, and ranunculus in various vases, as well as custom favors (Mason jars etched with "I was there when Pilar and Tim got hitched 12.17.11" and, for littler guests, glow sticks, fake mustaches and coloring books). A palate of soft pinks, whites, grays and browns festooned the affair in a textured period patina.
Skirting convention elsewhere, the groom and groomsmen wore paddy hats, while the flower girls—whose traditional Irish dances at dinner nodded to Tim's heritage—donned dresses with cowboy boots. At the dessert table, a menagerie of retro-style sweets (think cake pops and mini cupcakes, lemon and chocolate bars, donuts and scones) replaced the ubiquitous wedding cake, while a photo booth gifted guests with a take-home memento; in turn the couple was supplied keepsakes for a scrapbook.
"The very next day we saw all of the pictures and comments and laughed so hard our stomachs hurt!" 
remembers Pilar, who, reflecting on the events of the day—including a friend's impromptu version of "La Bamba"—bestows but one coda: "Beautiful."