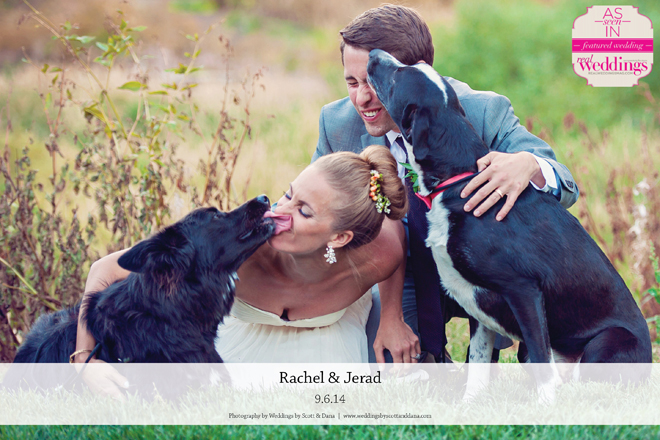 If you were lucky enough to be a guest at Rachel and Jerad's wedding, you were treated to a weekend, yes weekend, full of excitement. The couple—who met through the Penn State Snowboard Club—went all out to make sure their guests (most of whom traveled from all over the world) enjoyed the beauty of northern California and the Sierra.
Rachel and Jerad, who spend any possible moment outdoors, chose Tahoe's Sugar Bowl Resort as their venue and loved it so much they rented out the entire resort for the weekend.  Almost every guest stayed on the property—giving the wedding weekend a "luxury summer camp feel," according to Rachel. Friday was lake day on the resort's private Lake Mary. Jerad's uncle organized a "Bridal Olympics," which was the perfect way for the guests to meet and included boats, paddleboards and canoes. The rehearsal dinner was a taco bar, which was a nod to Rachel and Jerad's love for "Taco Tuesdays."
The wedding day included a first look photo opportunity at the top of the gondola, followed by the ceremony on the lawn outside the lodge with Mt. Judah in the background. The guests took the chairlift to the top of the mountain for cocktail hour, before making their way back down the hill for the reception.
With a location like Sugar Bowl, the venue was the décor. For the minimal décor they did have, they pulled from the rustic surroundings, incorporating items such as pinecones, which really brought the outdoors in and gave the entire wedding a cohesive feeling. The picturesque backdrop and too-perfect-for-words "Just Married" chairlift was meant for these snowboarders. And it doesn't get much better than big, slobbery dog kisses all over the bride's face.
"We wanted a day that was a true representation of us," Rachel says. And we'd say they hit the nail on the head in every aspect of this wedding weekend.
— Kelley Saia