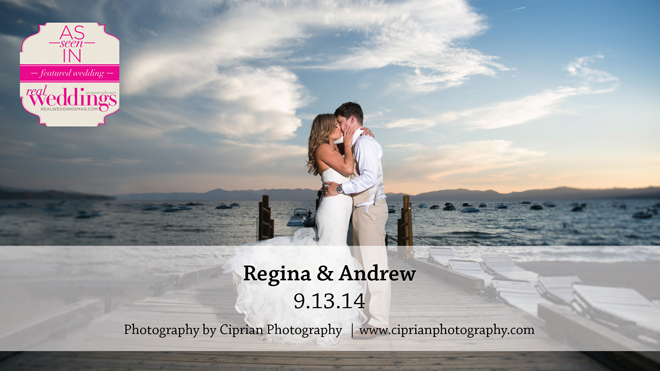 Traffic was jammed on the way to the Piazza Michelangelo. The plaza was packed with tourists and there was a Ferrari convention going on. Andrew searched in vain for Regina's parents, who were supposed to be in hiding, ready to video his proposal. He was getting desperate when he finally caught a glimpse of them and sprung into action.
"I hugged her, told her I loved her so much," Andrew says, "and then without hesitation, dropped to a knee, pulled out the ring and said, 'Mi vuoi sposare?'" Although Regina speaks Italian quite well, she didn't catch the words. "All she knew was 'boy on knee with ring in air,'" Andrew says. "Truth be told, I have no memory of Gina saying yes. My memory is just of her taking the ring."
With that, in Florence, Italy, Regina and Andrew became engaged. "He proposed in Italy time, which was the middle of the night in San Francisco," Regina says. "I called everybody—all my friends, his parents—and told them we were engaged…[waking] everyone up."
The planning began before they even left Italy. The couple envisioned marrying at Lake Tahoe, where both sets of parents own homes and where they had skied and boated. "He actually [first said 'I love you'] at the Hyatt Regency, where we ended up having our reception," Regina says.
For their theme, they brought together the two worlds that they love: Lake Tahoe and San Francisco…a little bit of mountain flair, with a little more elegance. "It really came together, and we were all on the same page the whole time," Regina says. "It was a great bonding experience for our families—we all got very close…The most important thing is that you're getting married and you have all of your loved ones there [so] it's all going to be okay."
Regina wanted to use a special family heirloom for her cake topper, an intricate glass heart with birds and flowers hanging off of it that her grandfather, who was a glassblower, had made for her parents when they married 35 years and one week before. When her parents took it out of storage, they found that the heart was cracked. Thankfully, Regina's dad "located the best glassblower in the whole Bay Area and got the glass heart fixed," the bride says. "He presented it to Andrew and me, set it down on our granite countertop and the thing cracked again." Her father cried, and Andrew and Regina felt terrible.
Nevertheless, Regina's father took it back as a surprise and was able to have it repaired again. "So for the wedding we had this beautiful cake topper," Regina says. "It was our something old."
—Margaret Snider