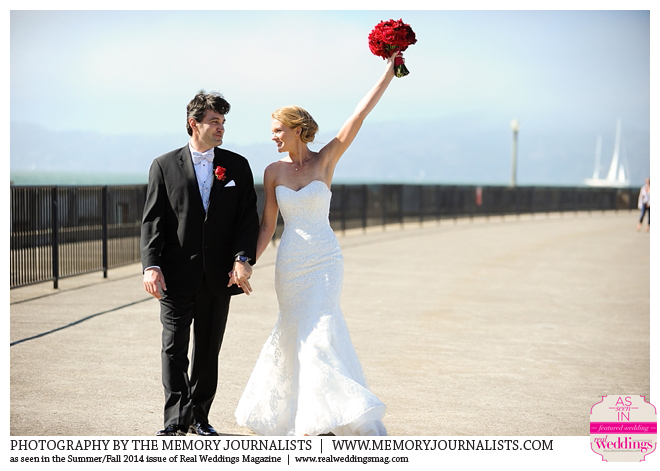 Robyn and Guido met through her best friend, Jennifer, who worked for the Ronald McDonald House of San Francisco. Guido was sponsoring one of the organization's events, and Robyn happened to accompany Jen to one of the meetings. The rest is history.
Following a sweet and simple engagement on Valentine's Day, the couple moved forward with plans for their wedding. "I had never been one to dream about my wedding day and how it would look," admits Robyn. "I always needed the other piece of the puzzle (my husband) before I could go down that road." While Guido went with her to approve the venue, he stepped back so that Robyn could plan the wedding she wanted. "I found through planning how traditional I was," she reveals. Her trusty list of vendors all traveled from Sacramento to San Francisco to make the day happen. Robyn also credits the planning success to the help of her "life-saving" mother, Sandra.
"It was special having my in-laws with us from Italy, [as well as] all of our friends and family," says Robyn.
Both the bride and groom wanted to get married in a church where her brother, Philip, could perform the ceremony. Her wish came true at the Old First Presbyterian Church in San Francisco. Italian opera music played as people were seated. Robyn made her entrance with her grandfather, walking down the aisle to Queen's "Crazy Little Thing Called Love." "It was special having my in-laws with us from Italy, [as well as] all of our friends and family," she shares.
The reception was held at One L, an old bank converted into a venue for special events. "The flowers were exquisite—lots of red roses, crystals and gold," the bride says. "Our DJs set the lighting and there were patterns on the ceiling and up-lighting everywhere."
Having worked many weddings herself in the past, Robyn reveals watching the guests leave early always left a mark on her. "So much is put into planning your wedding, and when everyone leaves early, it's just too bad," she says.  "My mom always says that the DJ is one of the most important components of a wedding—they keep things moving—and our DJs exceeded that!"
Overall, the couple have nothing but fond memories of their big day. "It was amazing…the music and the toasts couldn't have been more perfect."
— Darren Elms
Robyn & Guido's Wedding Film | San Francisco, CA from Jensen Films on Vimeo.