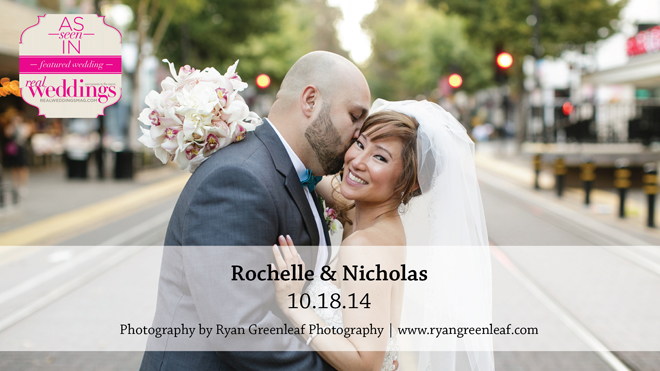 The old saying "good things come to those who wait" proved true for Rochelle and Nick, who didn't go on their first date until a year after they met. The pair had a chance encounter through a mutual friend before an LMFAO concert at a downtown Sacramento bar. Nick eventually got Rochelle's phone number, but waited a year before calling to ask her out. "Our friends, to this day, still tease him and say we should've been married a year ago," Rochelle says.
More than three years later, Nick proposed in a very special way. Every winter, the couple visits a neighborhood in Rocklin to admire its extravagant holiday light displays. During their annual trip in 2013, Nick had some friends hold up signs that read: "Will you marry me?" in front of their favorite brightly lit house. Rochelle spotted the sign and turned to find Nick down on one knee with a ring. She enthusiastically said "of course" in front of their audience of friends.
The following year, the couple exchanged vows at St. Anthony's Church in South Sacramento, a place dear to Nick's heart, as he spent several years volunteering at the church and later introduced Rochelle to the parish. The ceremony included a traditional Filipino Catholic wedding custom involving coins, a veil and cord to pay homage to Rochelle's heritage. Kneeling side by side, a veil and cord were draped over them to symbolize their inseparable unity.
After the "I dos," the couple headed to their reception at The Citizen Hotel. Following a grand entrance, the acoustic version of Sam Smith's "Latch" played through the speakers as the couple shared their first dance as husband and wife. Each table was decorated with bright magenta orchids, Rochelle and her late mother's favorite flower. The cake table, however, got the most attention—thanks to custom-made cake toppers that had a striking resemblance to the couple. "My mom was dragging people up to the cake to show them, saying: 'It looks just like Nick, it looks just like him!'" Nick says.
After the sun had set, the couple posed for photos under the night sky on the hotel's rooftop terrace. Nick had one request of their photographer: a picture of them with the word "love" spelled out using sparklers in the foreground. It took 30 minutes to get the perfect shot, but the couple says it was worth the wait. "It was the perfect way to end the night," Rochelle says. Not only will that photo be cherished forever, but also their love for one another. "I'm really excited and looking forward to every new milestone with him," Rochelle shares.
―Tiffany Yasus