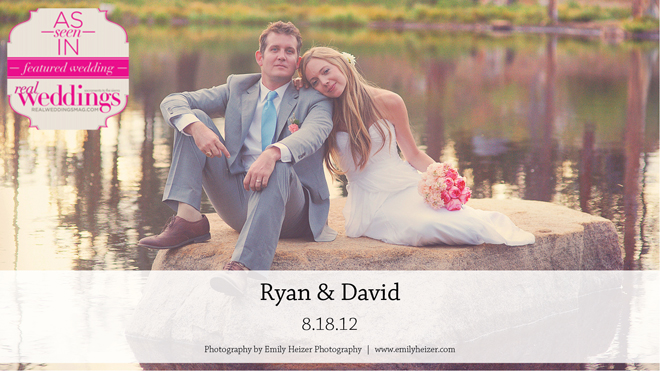 First came a job interview, then a first date, and then marriage—at least for the beginning of Ryan and Dave's love story.
The two both moved to Sacramento in 2005, but their paths didn't cross until Ryan interviewed Dave for a job at a local environmental company. "I was assisting with interviewing candidates for a new job position when I came across his application," she says. "While his personal email address listed on the app gave me pause—Dynodave70, I figured he was probably a dinosaur nerd—and the rest of his qualifications were very strong, so we called him in. First impression? Good eye contact—candidate seems trustworthy. Very articulate—candidate has good communication skills. Tall and strong—candidate would be helpful when hauling materials up and down stairs. Good hygiene—candidate is not creepy. And nice butt—it should be noted that this observation was not a factor considered in my recommendation for hire."
As Dave likes to say, he got the job, a boss and a future wife. But the two maintained professionalism for two years before their relationship grew. "Ryan would tell me to do something, and I would then do it," he says. "I expect a few laughs here as things haven't changed!" After a few years of winks and smiles, Dave got a date with Ryan. And the transition from coworkers to out-of-work friends to a dating couple was effortless.
"Now that we spend nearly every minute of every day within shouting distance of each other, I can honestly say that I have never been happier, more at ease, or more proud of what I have in my life," he says.
Dave proposed on New Year's Eve 2010 with three roses—one standing for the past year, the second for the next year and the third for the rest of their lives.
Soon after, they began planning the wedding. They put a lot of thought into the details, sometimes mulling over decisions for months, which surprised her when a girlfriend picked her wedding wine and first dance song just nights before her own wedding. "Her wedding was just as magical and beautiful as my own," Ryan says. "It just goes to show that the process of planning a beautiful wedding takes exactly as much time as you're interested in spending—no more and no less!"
When the couple decided on The HideOut as their venue, they also opted for a longer engagement to get the date they wanted. "As a result, we ended up taking on a lot of tasks independently," Ryan says. "Luckily, we have amazing friends and family whowere enthusiastic about helping out!" The groom's parents and sister helped design all of the correspondence (save-the-dates, invitations, RSVP cards, etc.), The bride's mom and friend made the puff-ball garlands, her sister made gift bags for out-of-town guests, and Dave took on the task of designing and making wooden accents by hand, including the couple's sweetheart table. The couple also wrote their own ceremony and vows.
"There wasn't a dry eye in the crowd," Ryan says. "I think the emotion from the ceremony set the tone for the reception—after a good cry, apparently people want to party!"
—Kourtney Jason