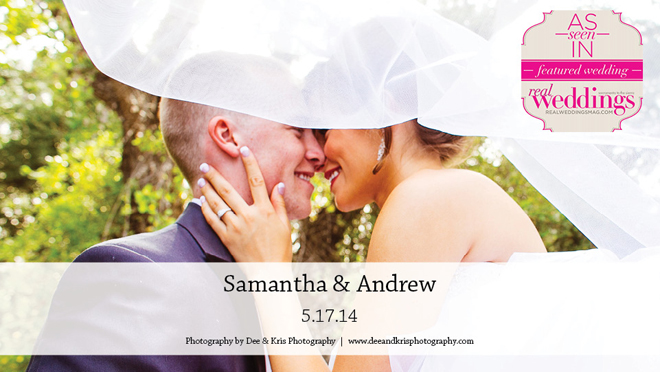 Samantha and Drew both grew up in small towns, miles and a state apart from each other. But the opportunity to attend college would bring a girl from Mukilteo, Washington, and a boy from Lodi, California, to a campus cafeteria, where they would meet over dinner one fateful evening.
Flash forward to October 2013 and a little "white lie" that would set the rest of their lives in motion. "He tricked me into thinking that the ring I wanted was long gone, and I was meeting him for a business dinner with people from his accounting firm," she says. That business dinner turned out to be a lovely evening in La Jolla Cove near San Diego. "Since we were 'early' for the dinner at the restaurant nearby, he wanted to just walk around," she remembers. "He hired photographers that were hiding in the bushes to take pictures of the moment and asked me while we stood there together looking over the ocean."
While the couple agreed to have the wedding in Drew's hometown of Lodi, the bride-to-be wanted to bring a little of her own childhood to the party. "I created a woodland feel to the day…trees all around, pinecones and apples to bring the Washington theme in," she shares. Other than those small personal touches, the couple had no real expectations for their big day. "We knew we would be married by five o-clock and hoped the dinner would taste good," she adds.
Planning would prove a bit stressful for a bride that's also a student, but Samantha admits that she still had a lot of fun with it.
"I was definitely one of those girls who grew up planning my wedding, so when it really came down to it, I already had a good idea of what I wanted everything to look like," remembers the bride.
Much of this was done the DIY way, including personally made programs and invitations.
Samantha says that the toughest part of the process was being forced to stay inside the day of the wedding. "I wanted to help put everything together, but no one would let me!"
Beautiful weather accompanied a small and intimate ceremony. Both Samantha and Drew's moms tied a sailor knot with two colors of rope, symbolizing the literal "tying the knot" and bringing the two families together. "Now we have the knot as a symbol of the first time our families came together officially," she shares. "We are going to frame it and hang it in our home."
Guests moved on to the outdoor reception, sprinkled with candles, white lights, little silver woodland creatures and flowers on the table. With everyone laughing, dancing and dining on great food and a delicious cake, the couple admits that it was hard to leave at the end of the evening. But Samantha confides that one of her favorite memories of the night was the moment her new husband was trapped on the dance floor by his groomsmen. "He danced for a whole song, and it wasn't a slow dance," she says. "Drew never dances, so we all had so much fun just watching him let loose."
—Darren Elms